If, like us, you're still reeling from the triumphant return of Rihanna to the main stage to headline the 2023 Super Bowl Halftime Show, we concur and feel you spiritually! All eyes — including those of non-football fans and Rihanna stans — stayed glued to the Super Bowl LVII Halftime Show on Sunday evening at State Farm Stadium in Glendale, Arizona.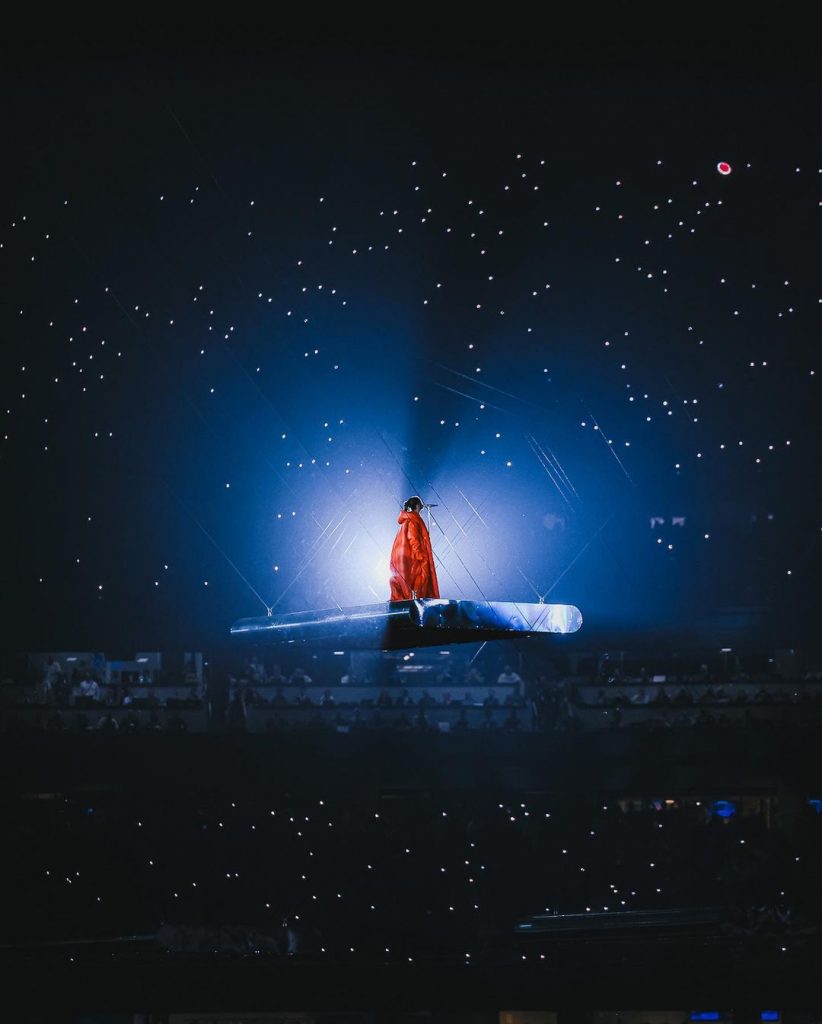 As the pop powerhouse descended from the sky, singing live on stage for the first time in over five years, she — in the true Bad Girl RiRi fashion — wasted no time making a statement in more ways than one, thus proving again why this world revolves around her.
The superstar began her Super Bowl LVII halftime performance, decked out in an all-scarlet-red look and belting out "Bitch Better Have My Money," mesmerising her audience while suspending herself in the air, along with her white puffer-clad backup dancers, on floating platforms. Contrary to her usual charismatic theatrics, entrance montages or musical-build ups for her set, Rihanna bedazzled the crowd (and over 100 million global viewers), zipping through a medley of her evergreen hits and fan favourites from her extensive discography, including "Diamonds," "Only Girl (In the World)," "Where Have You Been", "Rude Boy", and "Umbrella".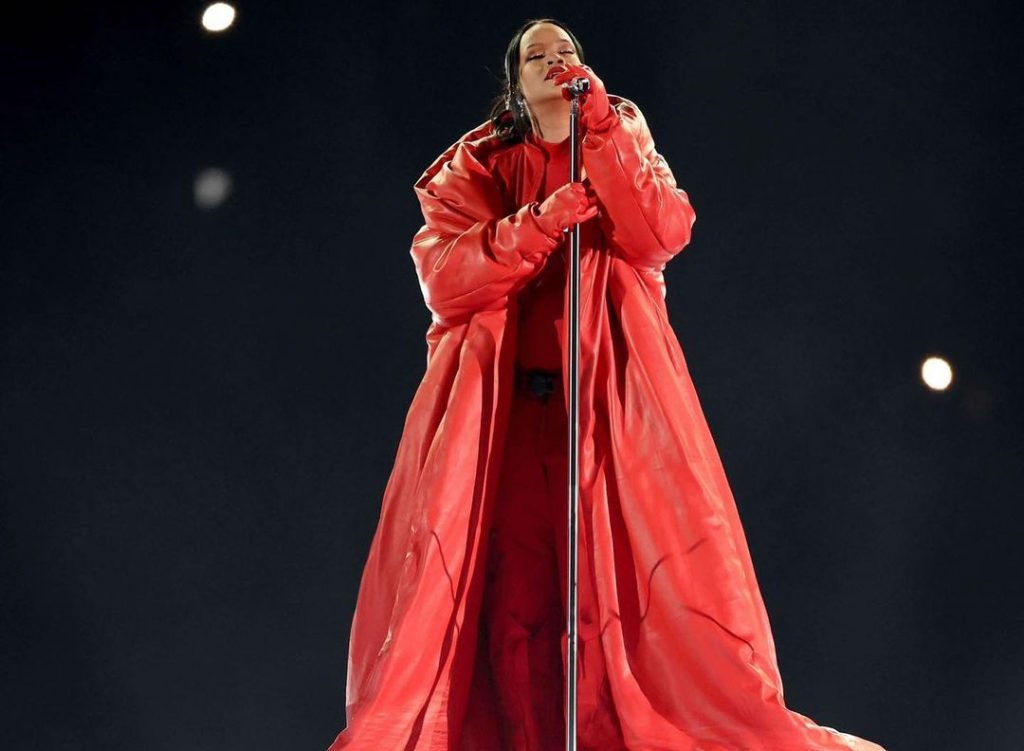 Meanwhile, known for breaking the internet, Rihanna took this significant Super Bowl performance and turned it into an epic and truly unforgettable second pregnancy revelation, nearly nine months after welcoming her first child with A$AP Rocky, who cheered her on from the sidelines. Much like the first time, she did this in an impeccable, jaw-dropping style. She stood suspended on a raised platform 60 feet above the ground, and the moment she rubbed her little baby bump, setting social media blazed with speculations.
Don't believe us? Watch the video below and see for yourself!
Rihanna performed "Diamonds" as the last song of her set, exuding her opulent aura, power, charm, and renown ease on stage. She radiated throughout her performance, exhibiting her iconic "outfit of the day," and gave us an endless amount of the ultimate fashion and beauty content to swoon over till the next time.
Let's dive right into her epic 2023 Super Bowl fashion!
Alaïa and Loewe Baby Bump-Friendly Outfit!
Rihanna resurrected her unparalleled maternity style at the Super Bowl 2023. Styled by Jahleel Weaver—who's responsible for some of the singer's most memorable red carpet looks—the 34-year-old Barbadian singer belted out her classic numbers, donning an all-scarlet-red Alaïa and Loewe ensemble that featured an unzipped, flight-inspired Loewe cotton-canvas jumpsuit, courtesy of Jonathan Anderson.
"I'm so excited to have been part of this unforgettable moment," Anderson stated. "Rihanna is a true icon, and working with her to bring these stage looks to life feels like a wild, wonderful dream."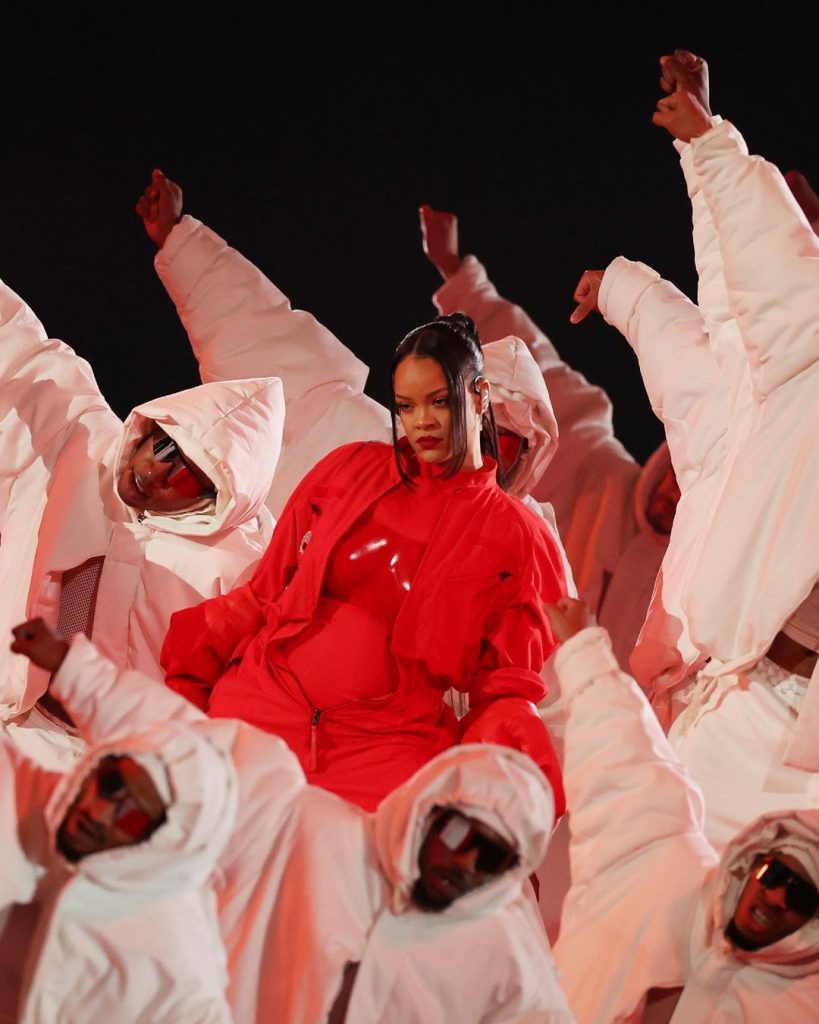 The flight suit took inspiration from the brand's spring 2022 ready-to-wear collection. Playing on a contrast of layers and textures, RiRi wore a red silk jersey catsuit with a matching moulded breast bustier underneath. Weaver began working on the Super Bowl performance attire in December of last year, but he wasn't made aware of the pregnancy until three weeks prior to the performance.
The revelation actually caught him off guard (with a lot of enthusiasm, of course), just like it did for us and the other millions of her followers, and also added additional strain on his shoulders because it was difficult to keep the pregnancy a secret until the final fittings.
Weaver described the experience to Vogue in an article saying,
"That was the hardest thing to manoeuvre around—the privacy and secrecy. She didn't tell me until three weeks before [the Super Bowl]. She finally told me when we were reviewing sketches, and I was like, 'Is this a joke?'"
It doesn't take a genius to understand why Rihanna gravitated towards an all-red ensemble to mark her jubilant comeback with a noteworthy performance. Red represents strength, courage, resilience, tenacity, love, and unbridled energy, and who can dispute her extraordinary talent after such a performance, not to mention the fact that this daring hue commands attention and makes a statement? That's a pretty good description that fits Rihanna so well, don't you think?
To top it all, Rihanna donned a custom-made, floor-sweeping, bold red leather maxi Alaïa puffer coat with built-in gloves, designed by Pieter Mulier, looking as royal as ever as she belted out the final track. "When we were preparing our latest collection, Rihanna reached out to us for a few looks; I was very interested in her vision of Alaïa," Mulier told Vogue. "By what she wants to wear, and how. To me, Rihanna embodies the modern woman. A pure beauty."
However, the coat commanded attention and speculations from netizens and fashion journalists and aficionados, who claimed that it was a loving tribute to the late fashion icon André Leon Talley, a prominent journalist and former editor-at-large of Vogue who passed away in New York in January 2022. Rihanna and ALT bonded through their shared love for exquisite fashion, and even the official André Leon Talley's Instagram account later posted how the coat was a tribute to the late fashion icon, who often wore a scarlet Norma Kamali sleeping bag coat.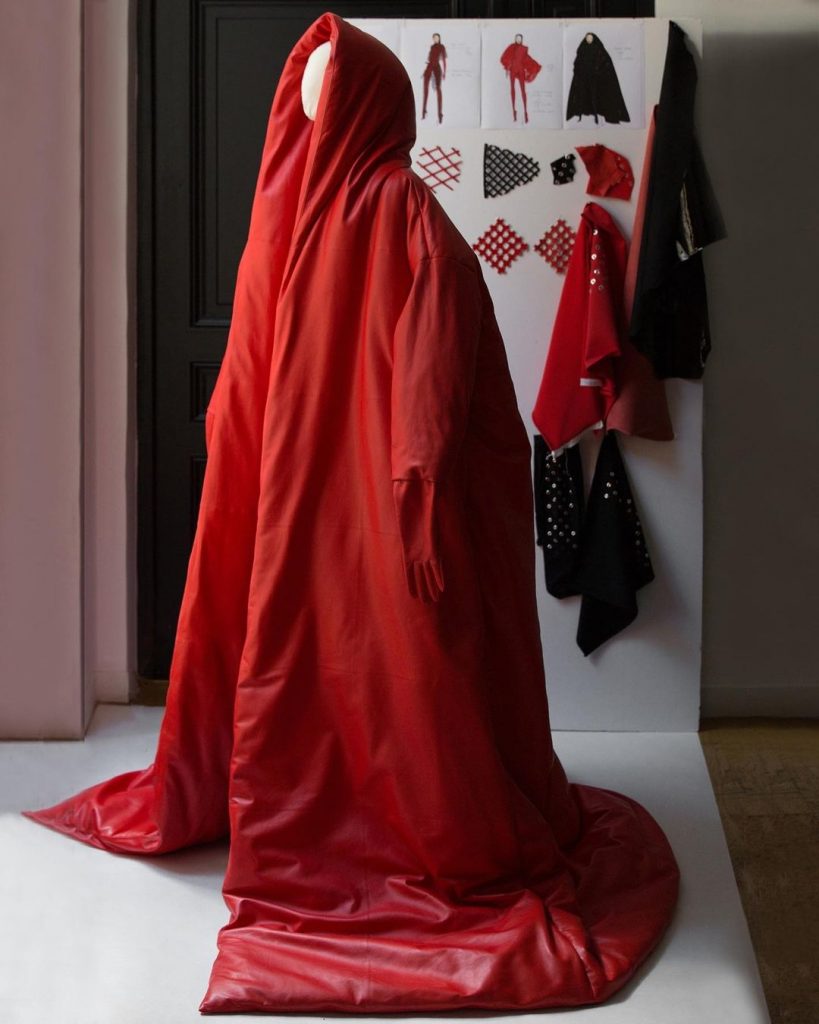 Accessories and Footwear!
It only makes sense for the "Diamonds" singer to shine like one on stage, adorned with glittering pieces from prominent jewellery houses.
While the exquisite, vintage diamond brooches from Joseph Saidian & Sons decorated the monochromatic flight suit, Rihanna also wore an earful of Messika Jewelry's boldest High Jewelry earrings—the Unique Illusionists mono earring, the Equilibrists diamond clip and the Magnetic Love mono earring. Her wrist adorned the glittering Jacob & Co. Skelton Northern Lights watch ($72,000), studded with red sapphire crystals and diamonds with a matching strap.
Rihanna paired the look with matching scarlet MM6 Maison Margiela x Salomon Cross Low sneakers for effortless movement from the airborne platforms to the runway, especially being pregnant.
Beauty Products That Rihanna Wore!
It's no easy feat to create a mesmerising beauty look for one of the most well-known pop culture celebrities, that hundreds of millions of global viewers would see. Get ready to load up on these Fenty Beauty products if you want to channel the confidence of your inner 'Bad Girl'!
Skincare Is A Must!
"Makeup is temporary, skin is forever!" Fenty Beauty's global makeup artist Priscilla Ono prepped Rihanna's skin for a week, including gentle exfoliation and deep nourishment, ahead of the big night, which was crucial in achieving a balanced complexion prepared for long-lasting, flawless performance makeup. She shared all the Fenty Skin products included in her preparation which include: Pre Show Glow Instant Retexturising 10% AHA Treatment ($40), Hydra Vizor Invisible Moisturiser ($38), Pro Kiss'r Lip Loving Scrubstick ($16) and Plush Puddin' Intensive Recovery Lip Mask ($22).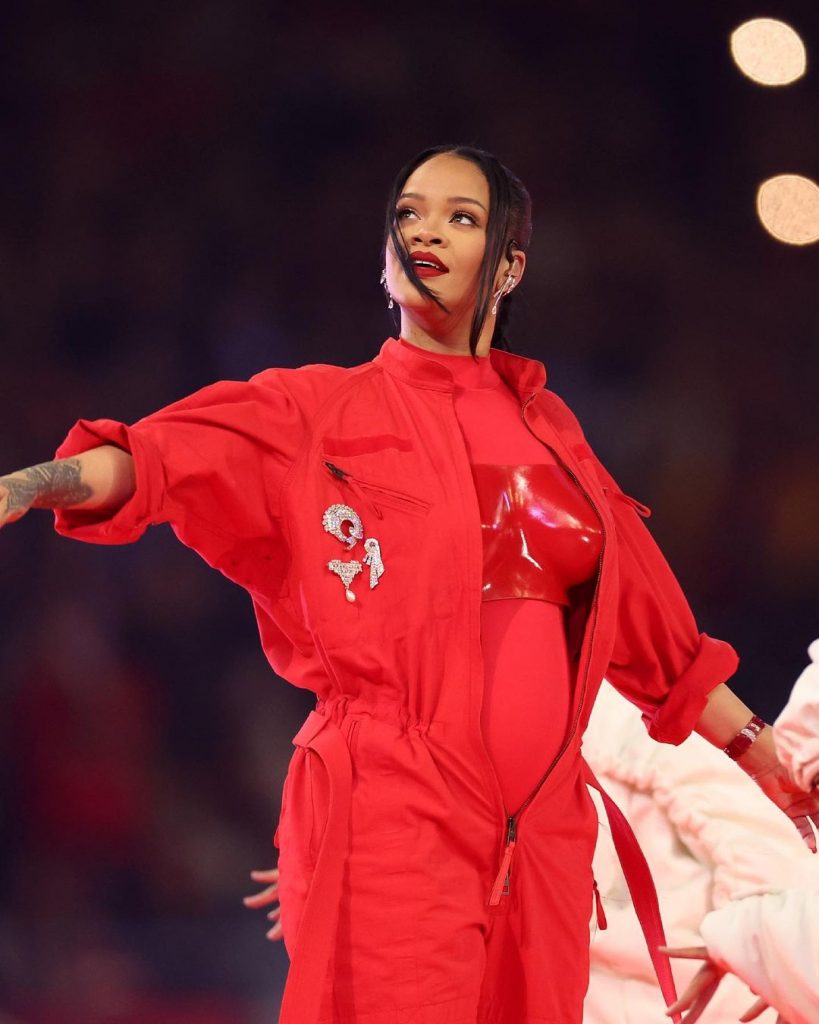 Unpacking Makeup!
Rihanna's glam squad shared the inside scoop on all the products used for the superstar's astonishing red look for her electrifying 2023 Super Bowl half-time performance. We rounded up every single product that Priscilla Ono and manicurist Kimmie Kyees, and you can shop all the products from fentybeauty.com!
For "performance-proof" glam, Priscilla Ono applied thin layers of long-wear foundation and powder foundation before topping it all off with the "Invisimatte Instant Setting + Blotting Powder" for a shine-free yet radiant complexion.
FYI, this product also made a really strategic cameo appearance during Rihanna's performance, when she touched up her makeup mid-performance. As reported by Forbes, this moment, which lasted a few seconds, garnered Fenty Beauty US$5.6 million in media impact value in the first 12 hours, receiving massive global exposure of 118.7 million viewers, and spending zero dollars on advertising. Clever, innit?
Coming back to the makeup, Ono further dialled up the drama by boosting bold and bright pouty lips with Fenty Icon Velvet Liquid Lipstick in the shade 'The MVP.' It complimented RiRi's Alaïa coat and Loewe jumpsuit, as the "red stage called for the ultimate Rihanna red lip."
She said:
"We wanted her beauty look to celebrate this moment and be a true reflection of her timeless beauty. And to me, there's nothing more iconic to Rihanna than her soft matte skin and bold red lip."

Priscilla Ono
For her manicure, Kimmie Kyees shared how she completed Rihanna's monochromatic bright colour look with a fiery red manicure, saying, "We wanted the nails to pop, so we went with CND's Devil Red, which is the perfect true red that really complements her tone. The longer length square shaped tips also beautifully lengthened her hands while still staying true to the classic look."
Hairstylist Yusef Williams completed the singer's high-octane, intimidating look with a braided, serpentine ponytail perched high on her head and bangs framing her face. Rihanna is our ultimate 'Bad Girl,' and she is savage! Would you expect anything less from the queen?
Let us know your thoughts on Rihanna's Super Bowl look on Twitter at @CelebMix!
Featured Image Source: Image Credit: Arizona Super Bowl Instagram | Photographed by: Dominic Contini