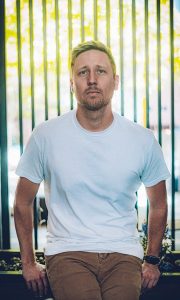 Indie-rock/pop artist HeartMouth, aka Casey Allen, releases his new single/music video, "I Know You Know (Wrapped Around Your Finger)," a song about the thrill of new love.
Now a multi-instrumentalist, Casey started out as a drummer, playing with metal outfit Embracing Goodbye, which singed to Korn's Brain 'Head' Welch's label, Driven Records, in 2010, followed by being half of folk-pop duo Season & Snare, which received a Shorty Award from Al Roker in 2016.
The name – HeartMouth – refers to letting what lies in your heart be unapologetically confessed through your mouth. Having experienced multiple lung collapses, Casey refuses to be deterred in writing and singing about what's on his heart.
"I Know You Know" follows on the heels of "Get Right For You" and "Six Feet Under," and serves as a foretaste for HeartMouth's upcoming debut EP.
Merging hints of pop and indie-rock, "I Know You Know (Wrapped Around Your Finger)" rolls out on contagious gleaming guitars riding a buoyant rhythm. After a shimmering bridge, the tune ramps up to hefty guitars, surging with energy.
CelebMix spoke with HeartMouth to find out more about the song's inspiration, how he got started in music, and his writing process.
What three things can't you live without?
My pets, my instruments, and mountain trips.
What inspired your new single/music video, "I Know You Know (Wrapped Around Your Finger)?"
The song first kicked off with the opening guitar riff, and something about the mood of it immediately gave me the inspiration to tell a story about a person going through all the emotions that come with the territory of falling for someone new. We knew we wanted the lighting in the video to reflect both the excitement and the uncertainty that can come with letting yourself fall in love, and I'm really happy with how the video bounces between moody low lights and bright lighting.
Who directed the video and where was it shot?
Garrett Barefoot of BlackPlate Productions shot and directed the video at The Fruit in Durham, North Carolina.
How did you get started in music?
My parents bought me a drum set for Christmas when I was 11. I had never asked for one, but I suppose they saw a spark for music in me that I hadn't seen for myself yet. I immediately fell in love, and never looked back from that point on. I never even considered doing anything outside of music, ha-ha. It clicked for me in ways that most other things in life never did. I am mostly self-taught, although I did take lessons with Ivan Hampden (Luther Vandross, Usher, Beyonce) for a few years. I became obsessed with the theory and psychology behind music along the way, and I began singing and picking up melodic instruments like guitar and piano to help me write songs. I would start by trying to learn covers until I'd get about halfway through and then find myself writing original songs inspired by those covers. That's when I knew I wanted to call myself a songwriter instead of just being a drummer or a singer.
Where are you from?
I'm from a small three-stoplight town called Four Oaks, In North Carolina. It's near Raleigh, and it's usually easier to just say Raleigh since most people have never heard of it ha-ha.
Did your hometown impact your sound?
Yes, but probably not in the way you'd first expect. The majority of people in my hometown are into country and bluegrass. As a teenager that wanted to beat the drums as hard as he could, I wanted to stand out and do the opposite of what everyone else was doing. Soooo, I started playing metal/hardcore. As I got older, I learned to branch out and love many different genres of music (including country and bluegrass…you're welcome, Mom), and now that has me writing alt-pop, indie-pop, or whatever you wanna call it. So yes, my hometown impacted my sound by making me want to write the opposite of what everyone around me was listening to since I never felt like I fit in or had anything in common with them.
If you had to explain your sound to the uninitiated, what would you say?
Think about the intensity and emotion of rock music. The storytelling of country music. The way a good hip-hop beat just makes you feel cool. The feeling of ethereal weightlessness you get from EDM. The raw honesty of folk music. If you mix all those things together, I like to think that's what HeartMouth sounds like and feels like.
Did your sound evolve naturally, or did you deliberately push it in a certain direction?
It feels very natural. When you look at what I'm drawn to out of the different genres I mentioned above, I think that my songwriting naturally starts going in those directions.
What inspires your writing? Do you draw inspiration from poems, music, or other media?
The human experience as a whole is what inspires me, as stupidly pretentious as that sounds ha-ha. I'm sure on a subconscious level, I probably draw a little bit from just about everything that I take in around me. However, I try to turn off the media and all of those other things as I'm writing so that the song can just be what it wants to be without any outside noise. It's funny that this single is ultimately a happy song since I don't tend to write very many happy songs. If something in my life is going well, I tend to live in the moment with it. I usually write whenever something heavier is on my mind, as a form of therapy. I'm extremely excited about this EP coming up though because I feel like it covers all of the major human emotions.
What can you share about your writing process?
It can differ from song to song, and you can hear me answer this question differently in other interviews. As of late, I tend to get a very small vocal idea, and I'll sit down and literally write and map out the entire song then and there. After a first verse and chorus come together, I can usually hear how I want the production to be for the entire song. I like to capitalize on the momentum of spontaneous creativity…otherwise, I'll find myself with months and hard drives worth of half-finished songs, and that is stressful to me.
Which artists in your opinion are killing it right now?
Dermot Kennedy. Matt Maeson. Maggie Rogers. Noah Kahan. They're all just perfect.
How do you define success?
Success to me is being able to keep pushing through all of the imposter syndrome that comes with being in the music industry at this moment in time. It's so saturated. So, so saturated. It's so easy to feel like the smallest atom in the endless universe. It's very easy to feel like you're never good enough or deserving of a career in this field. You're told "no" an awful lot in this industry. Being able to push through all of that and believe in your craft and abilities and songs at the end of the day is success.
What can your fans look forward to over the next six months? Music videos? Live gigs?
Yes! All of the above! A couple more singles, another music video, my first EP…I'm working on a live show as we speak. I'm going to be working as hard as I can while also laughing at myself and not taking myself too seriously along the way.
Follow HeartMouth Instagram | Twitter | TikTok | Facebook | Spotify