Riverdale spinoff Katy Keene has just made its UK debut on BBC iPlayer and is available to watch now!
Based on the Archie Comics character, the show follows the lives of Katy and her friends Josie, Jorge/Ginger, and Pepper as they go through life together and embark on their quest to make it big in the worlds of fashion, Broadway, music and the arts in New York.
Ahead of the show's UK premiere, Katy Keene herself Lucy Hale and show creator Michael Grassi joined BBC Radio 1Xtra host Nadia Jae for a Zoom Q&A all about the show. We learnt so much about what we can expect from the series, so here are seven reasons as to why you need to be watching Katy Keene on BBC iPlayer right now!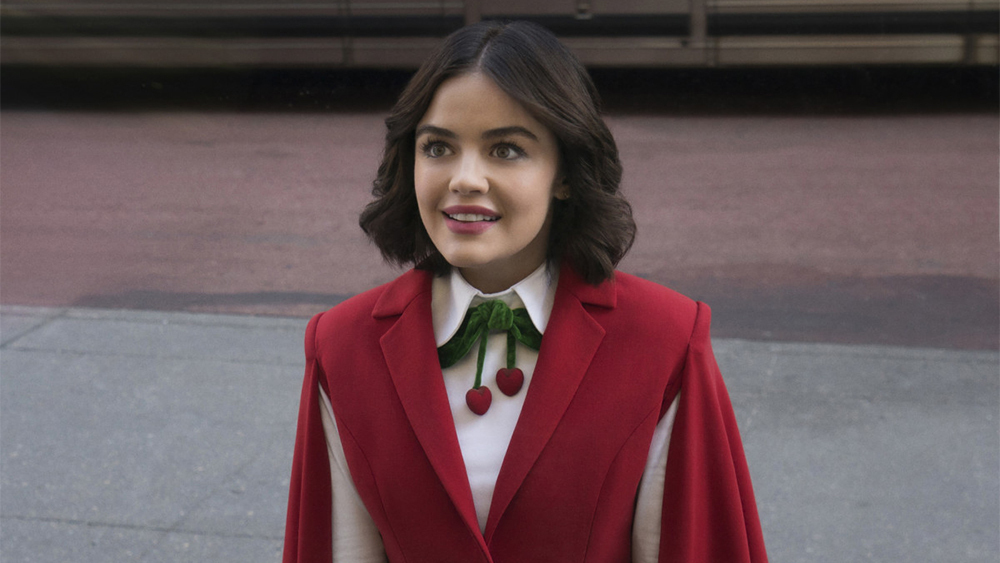 1. The show is all about following your dreams
We are currently living in difficult times of uncertainty, so there is absolutely no doubt that Katy Keene is the burst of light we need in the world right now. Unlike Riverdale, which is known for being quite dark, Katy Keene encapsulates a fun, colourful, and uplifting world which is all about following your dreams, no matter what.
Describing the show, Michael referred to it as a "love letter to anybody who's ever had a dream." He also called it "a universal story about following your dreams. It doesn't matter where you come from, this is about all the sacrifices we make and the risks we take to go after what we want in life."
Whilst the show is bound to resonate with 20-somethings who are also in the process of navigating their way through life, it was also feel incredibly nostalgic for older viewers who have perhaps already embarked on a similar journey.
2. It features an incredible cast
Led by Pretty Little Liars star Lucy Hale, Katy Keene features a diverse cast including Ashleigh Murray (who reprises her role as Josie McCoy from Riverdale), Jonny Beauchamp (Jorge/Ginger Lopez), Julia Chan (Pepper Smith), Zane Holtz (K.O. Kelly), Lucien Laviscount (Alex Cabot), and Camille Hyde (Alexandra Cabot).
During the series, you'll also spot a few crossover characters from Riverdale, including Hiram Lodge (played by Mark Consuelos), and Kevin Keller (played by Casey Cott).
3. The fashion looks are superb
Fashion is a huge part of Katy Keene, with the leading lady dreaming of being a fashion designer. In the first episode alone, she can be seen wearing and creating the most sensational looks. Lucy revealed that a lot of the looks were inspired by the comics, with costume designer Jenn Rogien proving to be "next level amazing".
When asked about her favourite outfit from the show, Lucy said "I think my favourite is probably in the finale, it's a handmade dress in the shape of a heart, like a boa heart dress." Going on to describe Katy's style, Lucy added: "Katy definitely had a theme, she loves red, pink, sparkles, and hearts. I love dressing up as her because I am not that person at all. I'm a very moody dresser so it was very fun to step into her shoes every day."
4. There are loads of musical numbers
Music also features heavily throughout Katy Keene, with the cast performing everything from modern pop songs to musical favourites. There's even a full on musical episode with songs from Kiss of the Spiderwoman!
Speaking about the music in the show, Lucy said: "I think, in an alternate universe, Katy Keene is a full-blown musical – like just a musical. It's going to be maybe a Broadway show one day. It's just screaming to have musical numbers all the time, which was a blast for me because I love music."
5. Katy Keene stays loyal to the essence of the comics
According to Michael, Katy Keene stays true to the essence, aesthetic and style of the comic, and keeps its original spirit alive despite being modernised for 2020. For fans of the comic, Michael teased that "there's lots of Easter eggs throughout, not only in the clothing but in the props."
6. It covers relevant issues
Whilst Katy Keene is a positive and uplifting show, it also doesn't shy away from covering relatable issues of all kinds which will hit home with viewers. Whether it's friendships, relationships, work difficulties, financial struggles or rejection, this is a real coming-of-age show which will touch the hearts of viewers of all ages.
One of the standout storylines, however, surrounds Jorge and his drag queen persona Ginger. His journey is a huge part of Katy Keene, with Michael stating: "It was so important for us to put this character on screen. This is a show about artists and drag is an art form. We've seen them in some movies and TV shows before but we've never seen a drag queen main character on a show like this and it's a huge part of Jorge's identity. It gives us a new version of a coming out story which we haven't seen before because his parents on the show don't know that he does drag."
7. It will leave you feeling hopeful
At the heart of it all, Katy Keene is a show which will envelop you in a warm embrace. With the aim of leaving you feeling inspired and with the notion that you can achieve anything, this is a much needed series full of hope which promises to be a real breath of fresh air, with Lucy stating: "This is a show I wish I had growing up."
Michael added, "Katy Keene is such an inclusive show, and it's a celebration of love. There's so much diversity in our cast and also in our characters. Everyone wants something different and comes from a different place. I hope that audiences will watch and find themselves in the show and feel like they're not alone."
Katy Keene is now available to watch in the UK on BBC iPlayer.
Let us know your thoughts on Katy Keene on Twitter @CelebMix