It's hard to believe that it has been 14 years since Aly & AJ have released a full length studio album. "a touch of the beat gets you up off your feet gets you out and then into the sun" is their fourth studio album and was released on Friday, May 7th.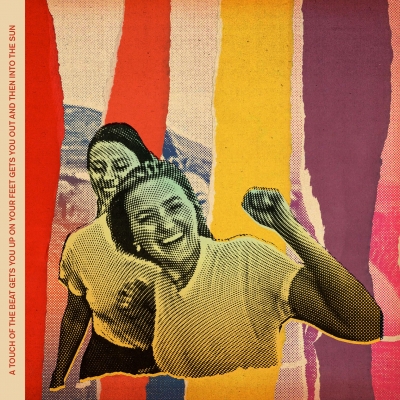 Their last album "Insomniatic" was released in 2007 at the height of their fame and featured their popular hit "Potential Breakup Song." Their latest album features 12 songs, including the singles "Listen!!!," "Pretty Places," "Slow Dancing," "Symptom of Your Touch," and "Don't Need Nothing."
The album starts off with "Pretty Places," which really puts the whole LP into perspective. The whole album feels like Summer and the journey that comes with the thrill of the season, almost like a road trip. "Pretty Places" talks about all the different sights and scenes they'll see. In this case, the places are the songs and you feel like you are following along on their Summer adventures.
"a touch of the beat" comes after the sisters made a comeback in 2017 with two EPs, "Ten Years" and "Sanctuary" (2019). Their comeback sparked a different sound for them- 80s synth pop/indie. "a touch of the beat" is the next chapter in this beautiful new era and the sisters are just getting started.
Some stand out songs are "Lucky to Get Him," "Stomach," and "Personal Cathedrals." The latter has a bit of a country sound to it- a new style for the duo.
This album, despite their different sound, brings fans back to that mid-2000s feeling, where you could dance around your living room to Aly & AJ, except now you can probably relate to the songs.
A solid 10 out of 10. Our only complaint- it was too short!
"a touch of the beat" is now available to stream everywhere. Aly & AJ are performing a live streamed show on the night of May 7th, where they will be performing old and new songs from The Theatre at Ace Hotel.
Which song is your favorite? Let us know on Twitter at @CelebMix.