Anne Twist, Mum to Gemma and Harry Styles attended the "Catwalk to a Cure" fashion show to raise funds and awareness for Parkinson's UK.
Curated by model Charlotte Edwards and hosted by TV presenter Vernon Kay, the evening raised funds for research into the condition as well as vital support services. The evening was also supported by fashion brands Butler & Wilson, [R E S E T] and Leblon London.
Charlotte Edwards said: "I'm thrilled to have had the opportunity to curate this show for Parkinson's UK. The money raised from the evening will go towards their groundbreaking research so that we can develop better treatments as soon as possible, as well as the support services that people with Parkinson's and their loved ones rely on."
The special event at Proud Embankment in London featured models with Parkinson's taking to the runway, as well as performances from a host of acts including singer Parisa Tarjomani, comedian Daman Bamrah, magician Dawud Magician, singer Jessica Edwards, DJs Colin Francis and CJ Sax, and cabaret performers Katrina Louise and Abi Collins.
One of those who stepped out on stage was entrepreneur Emma Lawton, 38, who was diagnosed with Parkinson's at the age of 29.
She said: "It's exciting to be part of this event because fashion and how I see myself with Parkinson's have always gone hand in hand. It helps me continue to express who I am and take pride in the way I look.
"I was thrilled to represent people with Parkinson's on the runway along with the other fabulous models. Finding a cure for Parkinson's would mean the world to me – to be able to walk a catwalk length without challenges would be incredible. I'm honoured to be helping Parkinson's UK hopefully bring that day forward."
Parkinsons UK, is a charity that is extremely close to Anne's heart since her father Brian Selley who sadly passed away earlier this year was diagnosed was the disease in 2009. She previously did a Wing Walk with her friend Sandra Meighan where the daredevil pair raised over 10k for the charity.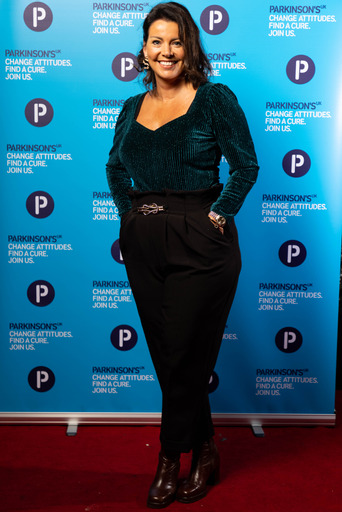 Parkinsons is a condition which sees the steady loss of cells which produce messaging chemical dopamine within the brain.
Symptoms can vary depending on the individual but can include tremors, slowed movement, stiffness, cramps, tiredness, dizziness, slurred speech and difficulty swallowing.
People with Parkinsons can also experience depression, delusions, hallucinations and anxiety. Roughly 127,000 people in the UK have the condition and many more live with its impact on family and friends.
For information and support or to find out more about Parkinson's UK, visit parkinsons.org.uk