This week marks CelebMix's five year anniversary so what better way to celebrate than to write about some of our favourite celebrities, this article is dedicated to INNA and the amazing stars she has collaborated with.
One of the biggest Romanian female singers in the world, INNA has been in the music industry for 12 years, with her debut single "Hot" becoming an international success. She has had chart hits all around the world, sang in many different languages, and collaborated with some of the world's biggest stars.
INNA recently released her latest single being "Sober" and collaborated with Yellow Claw at the end of last year on "Baila Conmigo" alongside Saweetie and Jenn Morel. Many big stars have duetted with INNA and we can't wait to choose our top five.
INNA – Club Rocker (feat. Flo Rida)
We're starting off with a collaboration that we thought would've been a worldwide smash. Flo Rida featured on INNA's song "Club Rocker" in 2011 and although it did chart globally, it didn't do as well as we all thought it would've done. The song's title later became the name of INNA's fans. The feature became the remix of the song, but in some countries, it was the only version that was released as a single.
INNA – Good Time (feat. Pitbull) / Pitbull – All The Things (feat. INNA)
INNA and Pitbull have collaborated twice and both tracks were fire in their own right, although certainly different from one another. "Good Time" wasn't much of a hit and can be seen as one of INNA's more cheesiest songs and music videos, but it managed to get some international acclaim by being used in films and TV series' – you can hear the song in Pitch Perfect 2 when The Bellas are travelling to Copenhagen, and it was also used in Young & Hungry.
As for Pitbull's "All The Things", which featured INNA, the track is beyond addicting. It was released as a promotional single for Pitbull's album Global Warming: Meltdown. We were so disappointed that it didn't become a full single release and didn't get a music video as we could so listen to this track on repeat. Catchy to no end, with a brilliant summer sound, this is one track you need to add to your summer party playlists. Pitbull and INNA together was clearly a perfect match, and we hope to see them collaborate once again.
INNA – More Than Friends (feat. Daddy Yankee) / Alexandra Stan & INNA – We Wanna (feat. Daddy Yankee)
Latin superstar Daddy Yankee has collaborated with INNA twice too, both as features on her songs. "More Than Friends" became a huge summer tune, charting all over Europe and is still a favourite amongst her fans. It is an easy-style summer dance track with INNA's vocals on-point throughout, whilst Daddy Yankee adds a bit of Reggaeton to the mix.
His second feature on an INNA track was her collaboration with Alexandra Stan, titled "We Wanna" – another song that should've been a worldwide hit. INNA and Alexandra Stan are two of the biggest Romanian female singers in the world, and "We Wanna" was a collaboration like no other. Addicting lyrics and a fired-up backing track, this deserved to have been added to DJ playlists around the globe. Daddy Yankee surprises us all in this track as he sings his verse in English, but still manages to add the Latin flavour that makes this song even more incredible.
INNA – Cola Song (feat. J Balvin)
On to another Latin star who has recently gained many hits to his name, J Balvin. This INNA track, "Cola Song", was released just before "Good Time" that featured Pitbull. It charted all over the world and is one of INNA's international successes. The song is upbeat and undeniably catchy, with J Balvin adding a Latin verse that works with the backing track perfectly. The song was also used in the 2015 film, Spy. The sexy music video, which sees INNA in bathing suits on a beach and dancing with her dancers, has gained over 200 million YouTube views.
Sam Feldt & Lush & Simon – Fade Away (feat. INNA)
There were so many other options we could've chosen, but "Fade Away" by Sam Feldt & Lush & Simon featuring INNA is one of our all-time favourite INNA collaborations and we couldn't believe it didn't become a global summer smash. Sam Feldt has had a few chart hits namely "Show Me Love" which featured Kimberly Anne, and more recently "Post Malone" featuring RANI, so when we heard he was making a track with INNA we were beyond excited. The outcome is a brilliant track that we could listen on repeat for days.
Bonus: G Girls – Call The Police / G Girls – Milk & Honey
We might be cheating by adding this bonus to our list, but INNA decided to create a supergroup known as G Girls in 2016 which saw top female Romanian singers come together for a couple of tracks. "Call The Police" saw INNA team up with Alexandra Stan, Antonia, and Lori (Loredana Ciobotaru). The track was everything, addicting and powerful and the music video captured us all. It was great seeing these top Romanian female artists collaborating together.
They followed that up with the awesome track "Milk & Honey" which saw Alexandra Stan be replaced by Lariss. The track was somewhat different than their previous single, with Lariss adding a more R&B sound to the song.
On top of that, they released a G Girls album which was more of a compilation album which included the G Girls' tracks as well as the solo hits by the members of the group.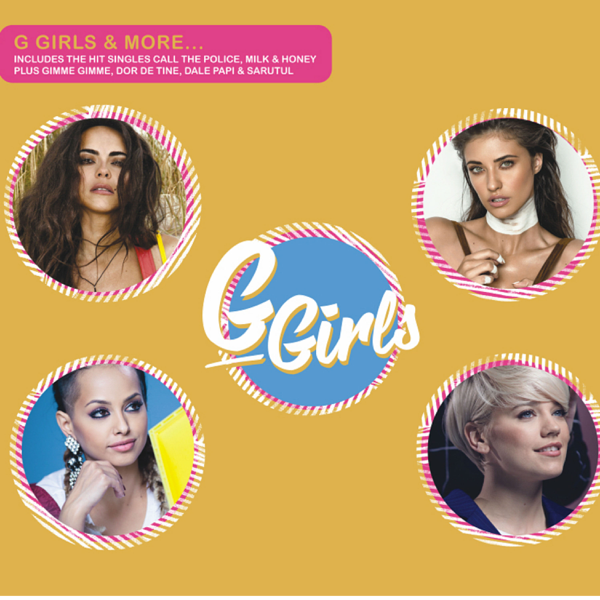 What are your favourite INNA collaborations? Let us know on Twitter @CelebMix.