Pop super group KEiiNO today release their debut album OKTA – a collection of powerful and euphoric pop-bops, all guaranteed to please the Norwegian bands huge international fanbase!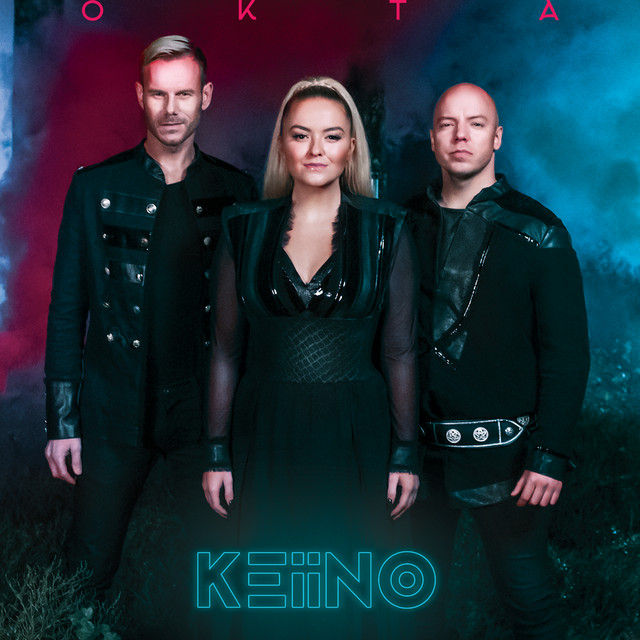 When Northern Lights are dancing…
Since capturing the attention of music lovers with the world over following their show-stopping appearance at the Eurovision Song Contest in 2019, KEiiNO have gone on to amass 45 million Spotify streams, release 7 singles, collaborate with Electric Fields and tour the globe extensively – playing sold out shows in London, Melbourne and Sydney as well as appearing on the bill at Pride Festivals in Madrid, Cologne and Stockholm.
We caught up with Tom from the band to talk new music, life in lockdown and why OKTA has been a long time coming…
Firstly, we must ask how you and the rest of the band are doing during this rather unsettling time?
We're doing fine, thank you! All our families are safe which is the most important thing. We have lost all gigs, that were supposed to pay for the album-production, but compared to those that really struggle from the effect of the lockdown, we are lucky.
So your debut album OKTA is released TODAY – you must be so excited?! What's the general feeling like in the KEiiNO camp right now?
Absolutely, we're so excited! This baby is months overdue, so we're really happy to finally be able to show the world our new songs. We've been apart from one an another for over two months now because of pandemic, we're so happy to finally get back together on stage.
How long have you been working on the record?
It's been a while now. After winning Melodi Grand Prix in Norway (an annual music competition organised by Norwegian public broadcaster Norsk Rikskringkasting), we were determined about staying together as a band after Eurovision, so we've been writing and recording every free moment.
Can you tell us a little bit about your creative process, and how you approached the songwriting and recording of the album?
We were on the road close to 200 days last year, so many of the songs on the album were written and recorded whilst on tour. Sometimes we'd just start jamming with an idea backstage at a show that I then record and send to our producer, and we'd build a song around that. We write lyrics together as a band, along with my husband, and then we have musicians recording their parts at home and sending it over to us. At one point, I was editing vocals in between sound checks in Australia, and sending it to our producer in Berlin, before he sent it to our mixing-engineer in Norway, who sent it to the US for mastering. But writing is an ever ongoing process for us, and as soon as the album was finished we started writing new songs.
You have such a unique and powerful sound – it's both straight up pop yet soulful, uplifting and emotional all at the same time – how important was it to you as a band to really push yourselves musically, to further strengthen and hone that distinctive sound?
The three of us have very different backgrounds, and I think because of that the group is so diverse, so we'll always sound a bit different to everyone else. But we are all pop-heads, so whenever we start on something a bit less mainstream, we tend to end up with something catchy and singalong. But we are far from having reached our full potential as a group, and I feel like the songs are getting better with every try.
You've worked with such a diverse mix of artists on the album, how did those collaborations come about?
Incorporating Joik into our music added another layer to the pop-sound that we were going for on this album. I guess because we brought some more attention to Joik and the Sàmi language, we were appointed ambassadors of the UN Year of Indigenous Languages. That inspired us to see if it was possible to add even more Indigenous elements and still make "streamable" pop songs. So we did some research, and got in touch with four Indigenous artists from around the world that we felt would be a good match. But we have a very diverse team on the whole album, as talent from 16 nations have contributed in one way or another, and it's recorded in 6 countries on three continents.
How would you best describe OKTA?
Because of the long process it took to make the album and all of it's contributors, OKTA is very diverse. A lot of people find it uplifting, and also packed with energy. There's also a bit of flirting with the 90s and 00s sound, and I guess it has a lot to do with our personalities. I don't think we'll ever make a Lana del Rey or Billie Eilish-sounding album.
Bed With The Wolf is the lead single to be released from album, can you tell us a little bit about the track?
If you've ever had a one-night-stand, I guess there is a chance afterwards that you've felt like you've done something you shouldn't have – you know that feeling of having one voice in your head yelling "shame, shame" while another voice is screaming "yes, yes!" Tom, growing up in a conservative part of Norway and having quite a hard time accepting he wasn't straight, especially relates to the theme.
This maybe a difficult question for you to answer, as I'm sure you feel an emotional attachment to all of them, but which, if any, are some of your favourite songs on the album?
We love all our babies! But right now, I guess Fred's pick must be Black Leather, Alexandra has Dancing In The Smoke as one of her favourites, and Tom's favourite is Bed with the Wolf.
With everything going on in the world right now, you will have obviously had to change your promo schedule in the run up to the records release – how has that been?
Well our release party is now digital, which we're really excited about! We're streaming it on our Facebook and YouTube accounts TODAY, Friday 15.05 at 19.00 CET. We had a intensive promo-tour to many European cities planned, but sadly that wont happen. Most interviews are done digital anyway now, but not being able to perform live is a huge drawback.
Once things go back to normal are there plans / hopes to tour? You must be excited to play some of the new tracks live for fans?
Of course! We're ready to play as soon as the borders are opened up, and people allowed to gather again! I hope that can sometime in the autumn, but I fear it won't before next year.
Again because of the global pandemic, it's difficult to predict, but what's next for KEiiNO and what do you hope to achieve throughout the rest of the year?
We hope to be able to reach a lot of new listeners with OKTA, as well as write some more hits which will be released later on in year.
KEiiNO's debut album OKTA is out NOW!
---
Let us know your thoughts on KEiiNO's brand new album OKTA over on Twitter @CelebMix now!