Saturday night saw the third Semi-Final of Melodifestivalen 2020 start. The song contest is the Swedish national selection show for the Eurovision Song Contest 2020 and has been running for 60 years now, and when the winner is announced they will become the 60th winner of Melodifestivalen. Semi-Final 3 took place on 15 February 2020 and saw Mohombi and Mariette go straight through to the Final.
Taking place at the Coop Norrbotten Arena in Luleå, the show was presented by David Sundin, Linnea Henriksson, and Lina Hedlund. Seven acts competed in front of the Swedish public, two was sent through to the Final, whereas two more were sent to the Second Chance round. A total of 375,838 kronor was donated to the Radiohälpen charity.
Mohombi and Mariette, with their songs "Winners" and "Shout It Out" respectively, were voted to go into the Final from the public at home. As for the second chance round, we'll be seeing Drängarna and Anis don Demina with their songs "Piga & dräng" and "Vem e som oss" respectively.
Melodifestivalen 2020 Semi-Final 3 Finalists
Mohombi – Winners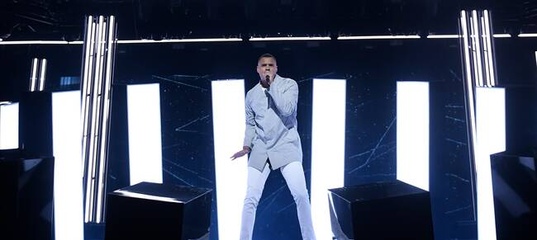 Is it really a surprise that internationally-famous male singer, Mohombi, went straight through to the Final? We saw him last year, where he sang "Hello", and he went straight to the Final then too, placing fifth – can he go all the way this year? He also came close to representing Sweden at the Eurovision Song Contest when he was a part of the duo, Avalon, alongside his brother Djo, before Mohombi launched his solo career and received chart hits from around the world. They entered with the song "Big Up", and they placed sixth in the Final. This time around he was surrounded by a circle of bright half-pillar lights, illuminating him and his performance. The song was uplifting but didn't bring anything to the stage, maybe we'll enjoy it more in the Final.
Mariette – Shout It Out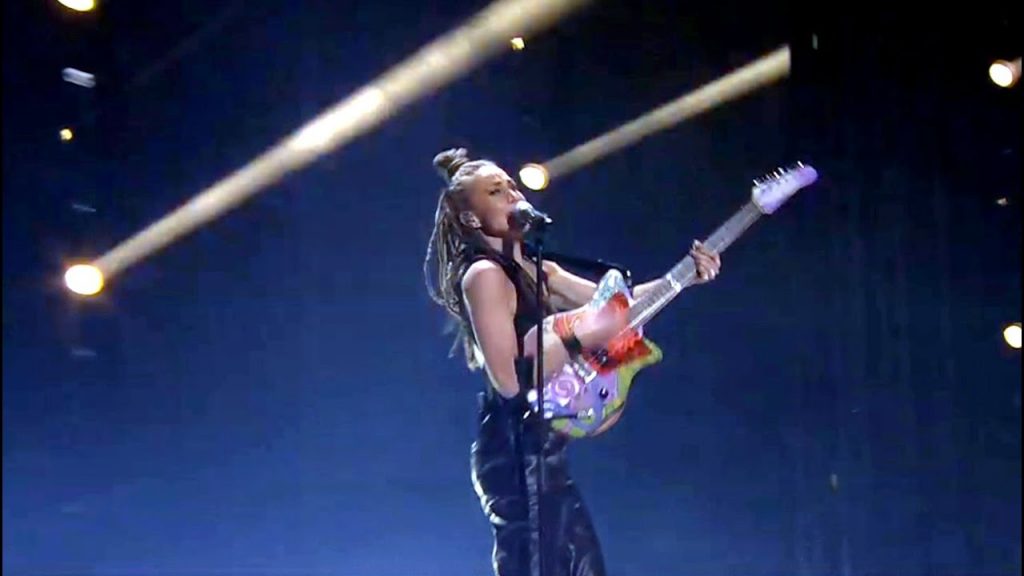 This was her fourth time competing on Melodifestivalen, after 2015's "Don't Stop Believing" where she placed third, 2017's "A Million Years" where she placed fourth, and 2018's "For You" where she placed fifth. She seems to be making a steady decline in placements each year she enters; could Mariette turn it all around this time with her song "Shout It Out"? It did seem like a grower of a song, one that could've faired better if it had gone to Andra Chansen, but time will definitely tell as the Final is coming up. She performed really well, giving the song her all with just her voice and her stage presence. She added a guitar towards the end of the number to add that extra push the song needed, intriguing us even more. We're interested in seeing how this does at the Final.
The videos of these two performances will not be released until after Melodifestivalen ends so that all finalists are given a fair chance – that also goes for the single releases on download and streaming services.
Melodifestivalen 2020 Semi-Final 3 Andra Chansen (Second Chance) Qualifiers
Drängarna – Piga & dräng
Well, this was a nice surprise in this Semi-Final, it probably won't win, but we'd love to see it reach the Final. Drängarna are a rock/pop/dansband group with folk, country, and Irish music influences, the latter particularly being inspired in this song "Piga & dräng". It's a fun uplifting number that totally deserved to make it through to Andra Chansen, we just hope it gets further in the national selection.
Anis don Demina – Vem e som oss
He missed out on making it to the Final last year when he featured on Zeana's awesome song "Mina bränder", but this year he's made it to the Andra Chansen all by himself. We have to admit that the staging was amazing, we loved the whole concept of the magazine backboard which used Anis don Demina as the star. The song itself was a fun-filled party anthem in the purest sense giving us Dizzee Rascal and Flo Rida vibes. We're interested to see how well he does at Andra Chansen, he sure does have a lot of energy and passion for the song.
Melodifestivalen Semi-Final 3 Eliminated Acts
Fifth Place: Faith Kakembo – Crying Rivers
Sending us all into a tranquil vibe, Faith Kakembo brought us all into the venue with her slow but powerful ballad. It was strong and executed well, with her vocals on point all the way through, it was just lacking support – we feel a choir would've boosted this song much more and given it that extra spark to get more people to vote.
Sixth Place: Amanda Aasa – Late
Definitely one of our favourites from this Semi-Final, Amanda Aasa brought it for her performance of "Late". She ended up being a contestant on Melodifestivalen 2020 after competing in P4 Nästa, which is a music competition to find new music and artists, they offer a place at Melodifestivalen to one of the competitors in the competition, Amanda Aasa didn't win the contest but was offered the place at Melfest, whereas Tim Lööv won P4 Nästa. Her staging was on point throughout with an addicting upbeat number, she seemed to be slightly nervous which the audience perhaps felt and therefore she lost votes, however, we reckon we'll be seeing her on the Melodifestivalen stage again, at some point.
Seventh Place: Albin Johnsén – Livet börjar nu
Mostly known for his 2014 Swedish number one hit "Din soldat" which featured Kristin Amparo, Albin Johnsén has been riding success ever since. He previously competed in Melodifestivalen 2016 as part of a duo named Albin & Mattias with the song "Rik" which made it through to Andra Chansen but lost out in the duel against Boris René's "Put Your Love On Me". This time he returned as a solo artist with the song "Livet börjar nu" and it just didn't appeal to the Swedish audience. It was a stripped-back indie song that got lost amongst the other memorable tracks and performances.
We also had an opening performance from the hosts Linnea Henriksson, Lina Hedlund, and David Sundin which was titled "Vi är live" ("We Are Live" in English). Then Lina Hedlund returned for an incredible and truly unforgettable number, titled "Pizzazz", which was eccentric and fun.
The opening act can be seen here, and the interval act can be seen here. You really need to watch these!
Much like the second Semi-Final, we weren't all that impressed, especially compared to the amazing first Semi-Final. However, we had to admit, this one was the most diverse, showcasing a range of Swedish genre music and giving us a few surprises for good measure too. We're very interested in how the acts that have advanced, will do in the rest of the competition.
The fourth and last Semi-Final will take place on 22 February 2020, at the Malmö Arena in Malmö, Sweden. We will watch Frida Öhrn, William Stridh, Nanne Grönvall, Victor Crone, Ellen Bendiktson & Simon Peyron, Jakob Karlberg, and Hanna Ferm compete for their place in the Final.
Semi-Final 3 is available to catch up on the SVT official website, it is only available for three days after it has been shown, but then it is made available again – along with the rest of the Semi-Finals – after the Final has been shown.
What did you make of Mohombi and Mariette winning the third Semi-Final of Melodifestivalen 2020? Let us know on Twitter @CelebMix.