With a Spice Girls reunion in the woodworks, we thought to take a look back at each Spice Girls member and pick an underrated hit out of their solo catalogue of singles – Let's get started!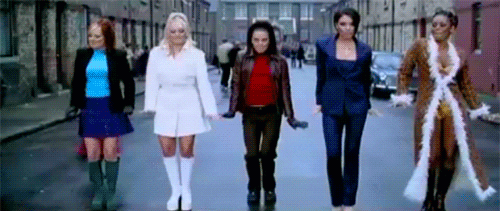 'Bag It Up' – Geri Halliwell (2000)
What better way to start other than with the Spice Girls member who first went solo and that is, of course, Geri Halliwell. Halliwell, or better known as Ginger Spice, shocked everyone when she called it quits on the Spice Girls in May 1998. The sudden decision also came as a surprise to her bandmates as they had no idea of Halliwell's motive at the time.
Anyway, four years later and Spice Girls were no more. Halliwell however, was a number-one selling solo artist. From 1999's 'Look at Me' to 2005's 'Desire', she managed to spin out four UK number ones – 'Bag It Up' being one of them.
As we look back at the solo career of Geri Halliwell, 'Bag It Up' seems to be the one everyone has forgotten about despite a phenomenal performance of the single at the BRIT Awards back when it was released. During the BRITs performance of 'Bag It Up', Halliwell emerged from a pair of giant inflatable legs whilst being accompanied by a sexy plethora of pink-haired male dancers. The dancers also stripped down to pink hot pants, with Halliwell unbuttoning her shirt before walking over the kneeling dancers.
'Anymore' – Melanie C (2016)
It is without a doubt that Melanie C has had the longest running solo music career out of all the other Spice Girls members. Throughout her solo career, Sporty Spice has managed to score seven top singles in the UK. From the 2000 hit single, 'I Turn To You'  to 'Next Best Superstar', there is no denying Melanie C was a force to be reckoned with in the 2000s.
However, this does mean Melanie C has had her fair share of underrated singles throughout her lengthy solo career, 'Anymore' being the one we are going to look at. The up-beat electro-pop anthem was chosen as the lead singles for Mel C's seventh studio album, 'Version Of Me'. Despite receiving consistent airplay to adult-pop contemporary radio stations like BBC Radio 2, 'Anymore' fell short of mainstream charting anywhere.
'Maybe' – Emma Bunton (2003)
Next we have Emma Bunton or according to The Spice Girls dictionary, Baby Spice. Following the girl group's split, Bunton received moderate commercial success from her debut album, 'A Girl Like Me' which was released in April 2001. The debut album features number-one single, 'What Took You So Long?' and 'Take My Breath Away' which peaked at number five in the UK Singles Chart.
However, before you know it, it is 2003 and a follow-up album from Baby Spice is ready for release. Bunton's sophomore album, 'Free Me' was eventually released in February 2004 after a string of singles in 2003, 'Maybe' belonging to that string. Throughout the run of 'Maybe', we saw Bunton perform the single on a 2004 episode of TOTP,  Channel 4's T4 and she even made her way across the pond when she performed on US Chat Show The View, two years after the single's release.
'For Once In My Life' – Mel B (2013)
Here we have Mel B at her most underrated peak with the 2013 single, 'For Once In My Life'. The Mel B single had high hopes at first with praise from high-profile celebrities like Kim Kardashian, Rita Ora and Paris Hilton. However, the public didn't tend to agree and saw a musical come-back from Scary Spice as past its sell-by date. Although we have to disagree on that as upon giving this single another listen, it still sounds reviving and fresh that it could be mistaken for a 2018 release.
Even with constant promotion from Mel B, the single failed to gain mainstream success with Mel B's unnamed third studio album being scrapped. Not to fear as you may know by now, we will hear more from Mel B once the confirmed Spice Girls reunion is underway!
'A Mind Of Its Own' – Victoria Beckham (2002)
Concluding our Spice-tastic article is Victoria Beckham with her 2002 single, 'A Mind Of Its Own'. We've got to admit it was pretty hard to choose an underrated single from Posh Spice as she's only released three single throughout her solo career – all of which charted within the top 10 of the UK Singles Chart!
'A Mind Of Its Own' followed Beckham's 2001 debut single, 'Not Such An Innocent Girl' with both singles featuring on her debut self-titled solo album. The single was an even bigger success in Turkey, placing atop of their singles chart when it was released. The single was also revamped with a French adaptation, 'Mon Coeur N'en Fait Qu'a Sa Tete'.
What do you think is an underrated solo single from one of The Spice Girls? Do you agree with us? Let us know on Facebook and Twitter!