Hollywood has always had a genuine love for the sports industry, particularly professional boxing. It comes as no surprise either with the prizefighting trade providing more than its fair share of interesting tales including rags-to-riches stories, underdogs achieving against all the odds and the David vs Goliath template.
Boxing is one of the oldest sports known to man, existing in some form or another for thousands of years before the rules as we understand them today were written and established. Often the sport's true-life stories are more thrilling and entertaining than the fiction dreamt up by scriptwriters.
Many cinema-goers and movie lovers enjoy an inspirational boxing movie. It has the power to motivate the audience, giving them a sense of strength, confidence, and the ability to rise against adversity. In this article, the sports fans at mytoposportsbooks.com present their favourite boxing movies. Some are based on true life fighters while others have been created.
Rocky (1976)
Rocky was written by Sylvester Stallone who also played the lead role. The backstory to how Stallone got Rocky to the big screen is as inspirational as the movie itself. It was released in 1976 and was the first of a series of Rocky movies, including Rocky 1 – 5, Rocky Balboa and the Creed films.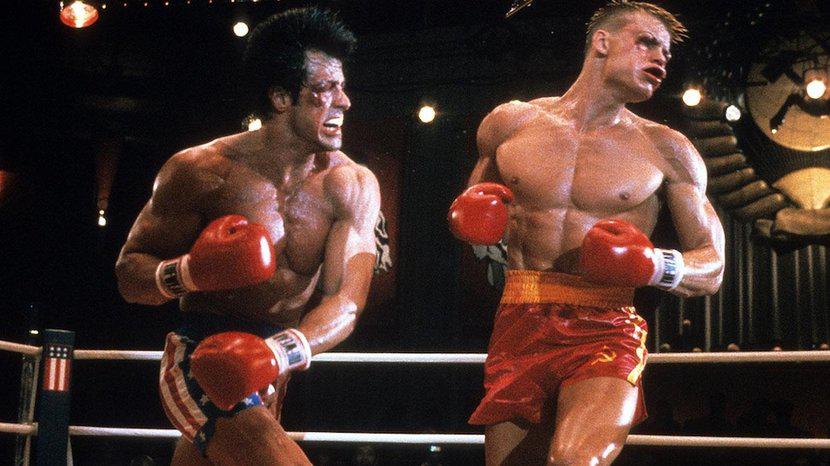 The story centres on a down-on-his-luck heavyweight boxer who gets a shot at the world championship belt and goes close to causing the biggest of sporting upsets against champion Apollo Creed. The plot, soundtrack, and acting show why Rocky heads up this list.
Raging Bull (1980)
From a boxing fairy tale to the true life and gritty story of former world champion Jake LaMotta. Played by Robert DeNiro and directed by Martin Scorsese, the fighter known as the Raging Bull proves a savage boxer inside the ring. What he lacks in finesse and boxing skills he more than makes up for in aggression, power, and determination.
It's those very qualities that have a hand in ruining Jake's life outside of the ropes. Raging Bull isn't just a boxing or sports movie, it's a tale of a fighter's everyday battles with himself, his weight, juggling boxing and home life, and the pressures he puts himself under to success. Pressures that lead to him pushing away everyone close.
Million Dollar Baby (2004)
Million Dollar Baby may not feature as high on the list of most boxing fans as it does here, but we make no apologies for slipping it in at number three. Million Dollar Baby tells of a poor, seemingly otherwise unskilled female with little family and friends who has a determination to make it in boxing. The sport dominated by men.
The reason we love Million Dollar Baby – on top of the great acting and direction of Clint Eastwood and the lead role by Hilary Swank – is just how inspiring it is. This film paved the way for many women and young girls to try boxing as a sport or even a profession. Ask a young female boxer and they'll tell you how important Million Dollar Baby was to them moving into the noble art.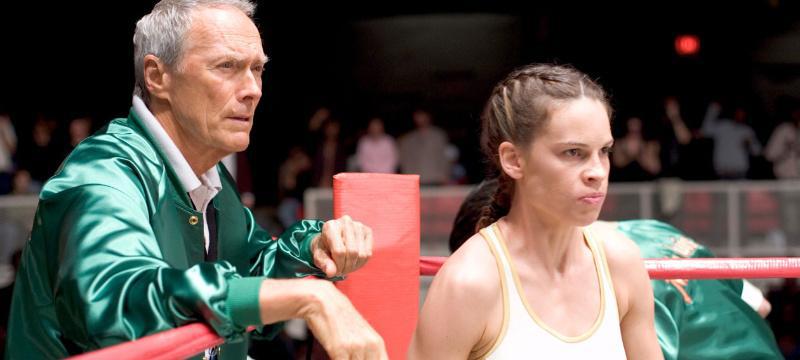 The Fighter (2010)
Another slightly more recent boxing movie and another epic true-life story. Many fight fans know American boxer, Micky Ward, for his blood-soaked trilogy with Arturo Gatti. This film explains how he got to the top. Another limited boxer with a big punch and will to win he's in a constant battle with his brother, the former fighter turned drug addict Dicky Eklund.
Irish Micky Ward navigates his way through the early exchanges of his career against a backdrop of madness and upheaval. Most of which is caused by Dicky who means well but just can't help letting everyone down. The cast is simply stunning with Mark Wahlberg and Christian Bale leading the line.
Cinderella Man (2005)
At number five is the true story of boxer James J Braddock who finds himself challenging for world honours in the autumn of his career. With his boxing CV less than impressive, his family living on the poverty line and the fighter himself forced to beg for cash, he gets one last shot at the big time.
Braddock gets himself back in shape with the help of his manager and fights for the world heavyweight championship. You'd think it was just a little far-fetched, even for Hollywood, if it didn't happen. Ron Howard directs and Russell Crowe stars.