One of the biggest nights in music has come and gone and with it came some incredible and breathtaking performances. From Adele and The Weeknd to Lady Gaga and host James Corden himself; the Grammy stage was graced with some indescribable talent on February 12th. As Jennifer Lopez said as she delivered a speech before the winner of Best New Artist – Chance the Rapper – was announced, now is the time to make our voices heard. There is no room for silence.
The Grammy Stage wasn't silent tonight as performers of many genres stood in an audience of their peers and performed their hearts out. Some performances had a strong message, others were subtle, but every single one of them brought the audience a sense of togetherness. Right now, there's nothing that we need more.
Here are a list of the performances from the 2017 Grammys.
Adele
"Hello"
The Weeknd
"I Feel It Comin"
Keith and Carrie 
"The Fighter"
Ed Sheeran
"Shape of You"
Lukas Graham / Kelsea Ballerini
"7 Years/Peter Pan"
Beyonce 
"Love Drought" and "Sandcastles"
Carpool Karaoke
"Sweet Caroline"
Bruno Mars
"That's what I like"
Katy Perry – Skip Marley
"Chained to the Rythm"
Gary Clark Jr and William Bell
"Born Under a Bad Sign"
Maren Morris Alicia Keys
"Once"
Adele
George Michael Tribute – "FastLove"
Lady Gaga and Metallica 
"Moth Into Flame"
Sturgill Simpson
"All Around You"
Demi Lovato, Tori Kelly, Little Big Town
"Bee Gees medley"
A Tribe Called Quest and Anderson Paak
"Award Tour"
Bruno Mars
A tribute to Prince- "Let's Go Crazy"
Pentatonix
"ABC"
Chance the Rapper
"How Great"
John Legend and Cynthia Erivo
In memory – "God Only Knows"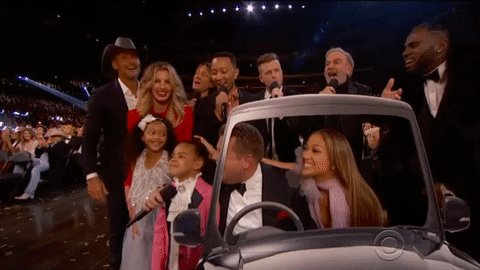 While all of the performances tonight were amazing, a few of them stood out to us above the rest.
Ed Sheeran 
Ed came back to music, after taking 8 months with nothing but his soul and his love interest to embark on a trip to just live life. He experienced things most of us never will with a sense of humanism that many of us strive to find and it helped him become a better musician. Ed has always been an incredible performer, but when he dropped 'Shape of You' and 'Castle on the Hill' earlier this year, fans were in awe of him. His performance tonight was stunning and his talent shines just as bright as his smile. It was amazing.
Bruno Mars 
Bruno is a person who is hard to describe. He emits talent, confidence, and a sense of genuine happiness everywhere he goes. His performances are fun, upbeat, and full of emotion as he takes on songs like 'If I Were Your Man' and 'Grenade' to '24K Magic' and 'That's What I Like'. Tonight, he stole the Grammys stage and did so without so much as an ounce of hesitation. He's unapologetically himself and his soulful voice leaves an impact. Plus, have you seen him dance? THAT is talent.
Beyonce 
"Your mother is a woman and women like her cannot be contained. I think of lovers as trees. Growing to and from one another. Searching for the same light. Why are you afraid of love? You think it's not possible for someone like you but you are the love of my life. The love of my life."
Her performances are always powerful. Her voice is something that was truly crafted to be used to deliver, and Beyonce delivers. Her entire Lemonade album was about love, even the parts that were dark and honest and open about loss and pain. It was about the course of love and not just the beautiful parts. She was vulnerable through the visual album, and it stuck with fans and nonfans alike. She put her heart and soul on display, and any performance of any song on that album has been something special. Tonight's, however, was incredible. As she spoke of overcoming pain and trusting that love can be whole again. As she made a nod to her not yet born children, her daughter Blue, and her loving husband, she spoke for anyone who has ever been in love before, and she did so beautifully.
A Tribe Called Quest and Anderson Paak
Let's be honest; this will be one of the most talked about moments in music this year. Reminiscent of  Kendrick Lamar's past Grammy performance, they used the stage to make a statement. In honor of their late band member and friend, they took the stage as absolute powerhouses and made sure that the audience and viewers at home heard their message. As Jennifer Lopez said at the beginning, and we mentioned earlier, now is not the time for silence. They didn't waste a single second of their stage presence with a lack of a voice, with anything short of a much-needed message.
What were your favorite performances of the 2017 Grammys? Tweet us at @CelebMix and let us know.