With over 10M combined followers on TikTok, stars Joey Reed and Tavan Hanley (Tosha) have traveled to 20+ states as they continue their journey traveling the country and collaborating with the biggest celebrities and major professional sports teams. In letting their followers' comments decide where they travel next, Joey and Tosha's story is beyond unique, serving as TikTok's first talent to launch a dance trend and travel the country performing that specific trend.
The dancing duo's journey started out by creating their own TikTok dances to popular, trending songs and then dancing in public places such as shopping malls, restaurants, etc. based on the requests from their followers. Of course, this was a huge hit causing Reed and Hanley's videos to go viral, bringing in subsequent requests from sports teams across the NFL, NBA, and MLB, as well as celebrities who have invited the duo to dance in various places, including amusement parks, stores, sports stadiums, arenas, and even mansions.
So far, Reed and Hanley have danced at the Mall of America, Universal Studios, MLB's The World Series, Disney World, and The Super Bowl, collaborating with artists including Jason DeRulo, Bubba Watson, and JuJu Smith-Schuster of the Pittsburgh Steelers
Currently, the duo's self-made dance trend to Chromance "Wrap Me in Plastic" serves as the longest standing trend on TikTok, with Reed and Hanley hoping to soon take their TikTok dancing overseas.
In an exclusive interview, CelebMix sat down with Reed and Hanley who told us that when it comes to choosing their "next destination," they are always thinking about who they can collaborate with, where they can perform it, and how to turn it into more than just a simple video. "Sometimes, we even use costumes," the duo revealed to CelebMix.
CelebMix: Tell us about your "Wrap Me In Plastic" trend and why/how it came about? What have you noticed since the performance?
Joey Reed & Tosha: The "Wrap Me In Plastic" chain started off as just a dance and then it turned into a series of videos that utilized and incorporated fans' comments telling us where we should go next, or who we should dance with. We found a popular sound and we made it dance and once we figured out the code we just put 100% into it. Since we started the dance trend, we have traveled to over 30 different cities with wild collabs.
CelebMix: Tell us what inspired you to create your own 'traveling dance trends' series and traveling the world performing those trends?
JR: We've been doing social media for a while and when we saw that something stuck for us, we decided to invest our own time and money into traveling and take it a little bit bigger than just restricting our dancing to our local area.
CelebMix: Why do you feel that this is unique to the TikTok creative space? What do you notice about creating this type of content, in comparison to other content you have previously created and what other TikTok creators have done?
JR & TH: TikTok is one of the most popular platforms on the market right now. We came up with this cracked code for this series, knowing and believing we could take it to the next level with the amount of people supporting us.
CelebMix: Any fun / scary stories/experiences you've had in the places you've traveled, including NY, Miami, Vegas, etc?
JR: In New York City, we actually missed a flight back to LA and decided to travel across the US with Chicago being our next spot. We ended up doing a collaboration with the Chicago Bulls and that was our first of many NBA collaborations.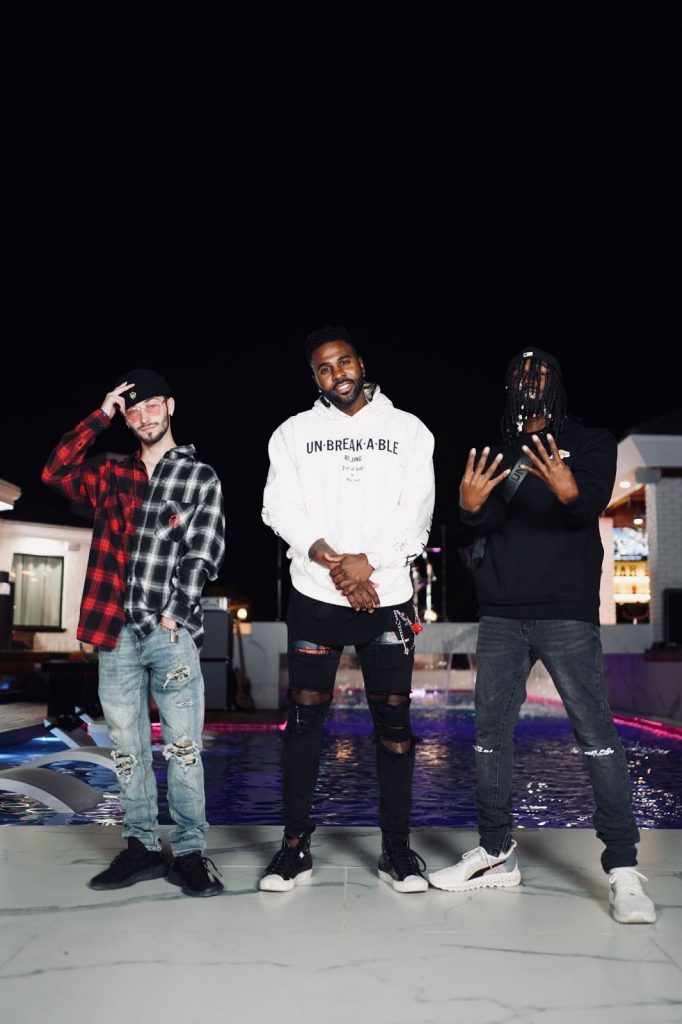 CelebMix: Tell us about your experiences at The Super Bowl, Mall of America, and The World Series.
JR: Experiences with the sports stadiums, teams and companies was an experience we never thought would happen. We were the first Tik-Tokers after COVID-19 to dance everywhere, establishing collaborations with major celebrities, sports organizations, and companies.
We were also the first to collaborate at the 2020 MLB World Series. There hasn't been a collaboration with influencers and the World Series since the COVID-19 pandemic. We were one of the first TikTokers to collaborate with the stadium and the World Series.
American Dream Mall invited us to come and gave us a VIP tour, which included a free snowboarding lesson. They allowed us to film in every area of the mall.
CelebMix: Tell us about some of the professional sports partnerships you have with teams. Be specific and how did those come about?
TH: After we did our dance with the Chicago Bulls and shortly after, Juju Smith-Schuster from the Steelers, scored a touchdown and performed our dance. That has since generated attention, bringing in a lot of other athletic organizations to collaborate with.
CelebMix: Let's talk about some of the collaborations you've had with Jason DeRulo and others?
JR: Jason Derulo has to be one of the top collaborations we've done to date. When I got the DM from Jason, I was super excited to make it happen. Not just doing one post, but we also got to hop on a campaign with him and filmed behind the scenes content throughout the whole process.
CelebMix: What inspired you both (Joey and Tosha please each answer) to join TikTok? What do you like about it? What don't you like about it, where if you were in a position to change that, what would you do differently?
JR & TH: We wanted to start something on a new platform and create. We love that TikTok is comprised of random content that shows up, and the algorithm is elite. TikTok is one of the best apps for content in our opinion.
The only downside to TikTok is that it doesn't show all your videos to your followers, but it depends on what hits in each post, when it drops, or how many people are online at the time you post a video.