Family don't end with blood.
It's rare for a TV show to surpass eight seasons. Many stop before they hit that mark, or right after they do. House M.D. got to eight, Teen Wolf will reach six, and The Vampire Diaries, currently going through their final season, will finish at eight.
Only the most brilliant shows can get past eight. The cast has to have chemistry, the fans have to be dedicated, and everything else has to be in line. If one thing is off the whole thing can crumble, forcing a show to end before it's ready to (isn't that the worst?).
It's clear that The CW's Supernatural doesn't suffer in any of those categories, because they have just defied the norm and got renewed for their thirteenth season.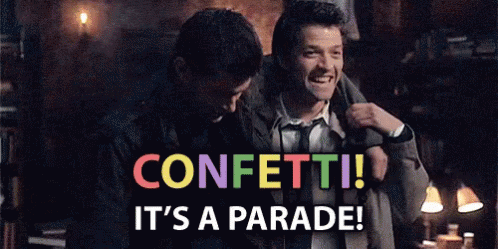 When Supernatural was brought up for an eleventh season, it broke a record. It became America's longest-running fantasy series. Now they've beaten their own record… twice.
The CW announced the show's renewal this morning, alongside other shows the network would be picking up for another season. Shortly after the news broke, Jensen Ackles, the man behind Dean Winchester, tweeted about it.
Season 13, here we come!!! Thanks to all those who have kept us going this long…what a life changing ride it has been. #SPNFamily forever!

— Jensen Ackles (@JensenAckles) January 8, 2017
Misha Collins, the angel that just so happens to play one on-screen, tweeted about it as well.
Everyone always disparages the number 13, but we feel pretty lucky to hit it. Thanks for making it happen, guys. #SPNFamily #SPNSeason13 https://t.co/YRXGK2vSr3

— Misha Collins (@mishacollins) January 8, 2017
While the Supernatural family was almost one-hundred percent confident the show would be continued, there were still concerns regarding the thirteenth season. With Jensen Ackles and his wife Danneel having twins in December, and Jared Padalecki and his wife Genevieve having a baby girl on the way, many thought that would signify the end. However, much like always, Supernatural ripped through every worry and made its stance; it's far from over.
A big reason that Supernatural has been so successful is that it is not just about Sam and Dean Winchester anymore. While, yes, the boys are important, the cast has taken the lessons out of the show and used them for good off the screen. Jared began the "Always Keep Fighting" campaign, which has beautifully evolved over the last couple of years, and has raised thousands of dollars for charities like To Write Love On Her Arms. Misha (Castiel) opened up Random Acts; a non-profit organization out to spread kindness and love with one act at a time. Kim Rhodes and Briana Buckmaster, two beloved guest stars who have appeared multiple times on the show, ran the "Wayward AF" campaign to help promote confidence and badassery. It is not often that you see a cast so dedicated to their fans, but again, Supernatural has never followed the norm.
On top of that, the show has their official conventions, where fans get to come together and celebrate the show and everything it stands for with the cast. While it is a bit on the pricey side, it's an experience like no other. The conventions embody everything the show stands for; family, love, and hope. Plus, fans have the ability to get pictures and autographs from their favorite cast members.
Supernatural also does something awesome; they call their fans their family. Instead of just having some type of fanbase name, the cast wants them to know that just like they're there for each other, they're there for them as well. It's one of the strongest real-life bonds in TV show history, and that no doubt has played a role in the show's success.
There's a reason the show has gone on so long; it's special. Everything about it is unique, and with all the power behind it, it's no wonder that it's still going.
Congratulations to the cast, crew, and fans of Supernatural. You did it. Just like Sam and Dean, you continue to defy every boundary set by others in the past, and that is something to be damn proud of. You are the true Team Free Will.
Are you a Supernatural fan? Will you be watching their thirteenth season? Tell us by tweeting us at @CelebMix.