This week marks CelebMix's five year anniversary so what better way to celebrate than to write about some of our favourite celebrities, this article is dedicated to Antonia and the amazing stars she has collaborated with.
Antonia has been in the music industry for 11 years now, and she has dropped many amazing tracks that we adore. Her voice is so beautiful and she easily incorporates emotion into her music. She's had a couple of international hits as well as hits in her home country of Romania and has also appeared on TV shows over there.
Antonia also recently dropped her brand new single "Como ¡Ay!" which has one hilarious but sexual music video that you just have to see, and her latest collaboration was with Carla's Dreams on the 2019 song "Anxietate". Many stars have duetted with Antonia and we can't wait to choose our top five.
Tom Boxer – Morena (feat. Antonia)
Obviously we're going to start with the track that made her internationally known. "Morena" came at the time when European dance music was hitting the global charts hard, and it looked like this track was going to be a sure-fire hit, instead it only really hit Eastern Europe, but it still managed to propel Antonia into the star she is today. Tom Boxer and Antonia worked together on a number of tracks, including "Roses On Fire", "Feel The Joy", and "The Game Radio". Tom Boxer went on to have a second international hit titled "Deep In Love" which was a collaboration with his girlfriend Morena, which the song with Antonia was about, and it also featured J Warner.
Antonia – Hurricane (feat. Puya)
This isn't just a powerful song, but the music video has such an incredible narrative. Puya is a well-known Romanian rapper who has released a total of six solo studio albums. "Hurricane" proves that Antonia and Puya make a brilliant duo with both singers bringing passion and heart to the track.
Lotus & Antonia – Wild Wild Horses (feat. Jay Sean & Pitbull) [Bodybangers VIP Remix]
Yes, Romanian singer Antonia has worked with Mr Worldwide himself, Pitbull, although unintentionally. This song was originally released in 2014, titled as "Wild Horses" and only featured English singer-songwriter, Jay Sean – best known for the hits "Down" which featured Lil Wayne, "Do You Remember" featuring Sean Paul & Lil Jon, and "2012 (It Ain't The End)" featuring Nicki Minaj. Then four years later Lotus comes along and re-releases the track with additional vocals from Pitbull and remixes coming from the likes of the Bodybangers, who are an internationally known German DJ duo consisting of Andreas Hinz & Michael Müller. It's such a good remix that we're surprised it wasn't an international hit, but we also think the exact same thing about the original song.
Antonia – Iubirea Mea (feat. Alex Velea) / Alex Velea – Sahara (feat. Antonia & Lino Golden)
Antonia has collaborated with her partner Alex Velea twice now, and we so hope to see them collaborate again. They're definitely a Romanian power couple and their love for each other is more than apparent. First released was "Iubirea Mea" which Alex Velea is an uncredited vocalist, but the music video includes him. The song itself is pure beauty and the music video has taken that and plunged us right near the beach where we watch Antonia and Alex Velea spend time together. It's just one completely beautiful package.
"Sahara" takes a more hip-hop route with some typical Romanian dance styles throughout. Alex Velea and Antonia are more than just a perfect couple, their vocals work brilliantly together, and "Sahara" just manages to prove that they need to work together on another track. The track also features Lino Golden who is a rising Romanian rapper and manages to switch up the track perfectly; he is Alex Velea's bandmate in the group they founded in 2019 known as Golden Gang.
Micke – El Amor (feat. Antonia)
We know what you're all thinking, why haven't we included "Matame", which features Erik Frank, in this list? And we admit, the song is really good and has been a total hit in Romania, and has been massive for Antonia in the last few years, but Erik Frank has been pretty new on the scene, whereas Micke Moreno has been going for a few years having competed on La Banda – which created the bands CNCO and MIX5. Global Records launched a Latin subsidiary label, where they launched a series of Latin-inspired tracks, and "El Amor" was one of these tracks and featured Antonia. She opens the song with an English verse before Micke sings the rest of the song in Spanish. This is such a tune that we had to include it in this list.
Bonus: G Girls – Call The Police / G Girls – Milk & Honey
We just had to include these tracks, but they're not a normal collaboration instead, it brought four of Romania's top female singers together to create a supergroup, called G Girls. Antonia was joined by INNA, Alexandra Stan, and Lori (Loredana Ciobotaru) for the debut single "Call The Police" which became a hit in Poland and did moderately well in Romania – although we believe it should've been an international hit. Antonia shines throughout the song and especially in the music video considering her fashion choices.
They came together for a second song only Alexandra Stan was replaced with Lariss. This new song was titled "Milk & Honey" and it didn't do so well as the previous single. It has more of an R&B sound to it, which fits Antonia and Lariss really well. We would love to see more music from G Girls, but this one was released in 2017, so it seems unlikely.
They also released a compilation album titled G Girls & More which contained the two G Girls songs that were released as well as solo hits from all five of them.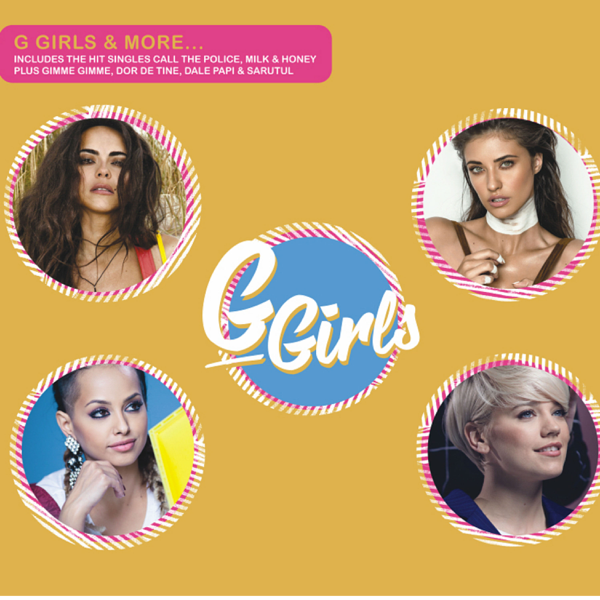 What are your favourite Antonia collaborations? Let us know on Twitter @CelebMix.