*This article may contain spoilers regarding season 5! Read at your own risk*
The all-new season 6 of Brooklyn Nine-Nine was finally released on Netflix this week on the 28th March after filming had concluded in May 2019 and after all of the episodes had been aired in the United States on NBC.
With very successful previous seasons, Brooklyn Nine-Nine is trending on Netflix at Number 2 out of the top ten list, which isn't surprising, due to excited fans loving this humorous comedy show.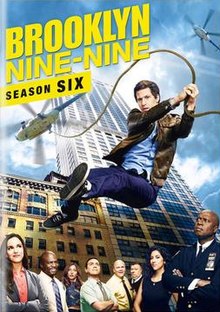 As a recap before you watch season 6, let's follow the storyline of the last episode of season 5 (which all fans loved), named Jake & Amy. This episode left all fans shocked but happy, also wanting more content. This is because everyone found out the outcome of Jake and Amy's relationship (Peraltiago) which was determined by their wedding. In this episode, Jake and Amy both suffered a wedding day crisis due to a bomb threat that had been made by a former perp that either one of them could have arrested. To make matters worse, Amy's Ex-boyfriend Teddy, shows up with the bomb squad that he leads and deliberates between making matters worse or helping the couple.
To try and save the venue for the wedding, Jake and Amy team up with Charles to try and find the perp who threatened their special day, but sadly fail. Peraltiago end up marrying outside of the Ninety-Ninth precinct surrounded by their friends, family and squad. This is because with the help of the Nine-Nine, their special moment was salvaged and the ceremony was even more romantic and beautiful than what they'd hoped for. The episode is wrapped up by a celebration afterward in Shaw's bar, where Captain Holt receives news regarding his bid for the commissioner job that he's spent years working towards. Fans were overjoyed with the episode and how the season ended on a positive.
If you want to see what happens next, go and watch Season 6 of Brooklyn Nine-Nine on Netflix now, you won't be disappointed!
What are your thoughts? Let us know on Twitter using @CelebMix.