It's official! Glee amun Darren Criss is set to star as the "Music Meister" in the musical crossover episode between The Flash and Supergirl.
The Music Meister is a villain who has the power to control people through music. The character first appeared in the animated series Battman: The Brave and the Bold, where Neil Patrick Harris voiced him. People wondered whether Harris would be portraying him in the live-action series, but executive producer Andrew Kreisberg confirmed to TVLine that Darren Criss is cast as the Music Meister.
Kreisberg said, "With our Flash and our Supergirl being Glee alums, how could we not have them go up against another Glee favorite like Darren Criss?" He continues, "We have been blown away by his talent over the years and we can't wait to see what he brings to the Music Meister."
The Flash star Grant Gustin and Supergirl star Melissa Benoist both made appearances on Fox's Glee. With the addition of Criss, it looks like it will be a full-on Glee reunion as the three alum battle it out in the epic crossover.
Darren Criss and Melisssa Benoist on 'Glee'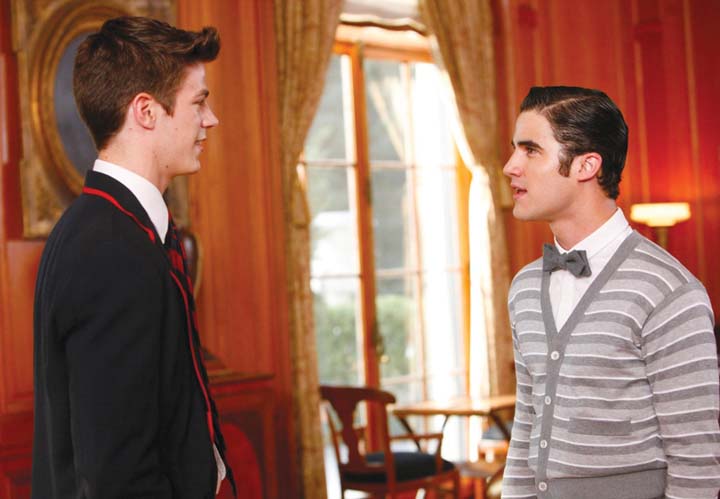 Grant Gustin and Darren Criss on 'Glee'
The event will start on March 20th during Supergirl, and will continue onto The Flash on March 21st, where the episode is titled "Duet."
Jesse L. Martin (Joe), Victor Garber (Professor Stein), John Barrowman (Malcolm Merlyn) Jeremy Jordan (Winn), and Carlos Valdes (Cisco) will all be singing in the episode, as well as Gustin, Benoist, and Criss.
What do you think of the casting? Make sure to tweet us at @

CelebMix

!