On January 8th, 1981, an incredible, gorgeous, and sweet person came into the world. Since that day, she has been lighting up rooms and sparking smiles on the people around her.
Some people know her as Kris Furillor from Wildfire. A couple may recognize her as Tracy Stark from FlashForward. If you're unfamiliar with these characters… you'll probably recognize her from her most well-known character; Ruby. One of Supernatural's favorite mischievous demons.
If you haven't guessed it; we're talking about the wonderful Genevieve Padalecki.
Even if you're not a fan of the shows and movies she's appeared in, there are lots of reasons to stan the thirty-six-year-old. We'd love to give you all of them, but the list would never end. So… we'll shorten it down a little.
Here are six reasons to love Genevieve Padalecki.
---
1. Her portrayal of Ruby on Supernatural
https://www.youtube.com/watch?v=SprMMD98g7Q
Way back when Supernatural was in its fourth season, Genevieve had a crucial role in the series. She played Ruby 2.0; the demon who ultimately manipulated Sam into releasing the one and only Lucifer. While Ruby was evil, she was a beloved character. There were different sides to her, and she had an interesting personality for someone with black eyes. Ruby is also the beautiful reason why Genevieve met Jared Padalecki (Sam Winchester).
2. Her avid support for her husband, Jared Padalecki
Jack of all trades @jarpad can do it all ?? pic.twitter.com/UlHj86Koq9

— Genevieve Padalecki (@realGpad) March 26, 2016
One of the cutest and sweetest things about Genevieve is the open support she shows for her husband. Every now and again, she'll tweet something relating to Jared. They're always positive and full of love. In the past, she has tweeted a throwback picture of the two, a 'miss you' tweet with a photo of her and their eldest son, and birthday tweets. All of them are incredibly precious and heartwarming.
3. Her friendship with Danneel Harris-Ackles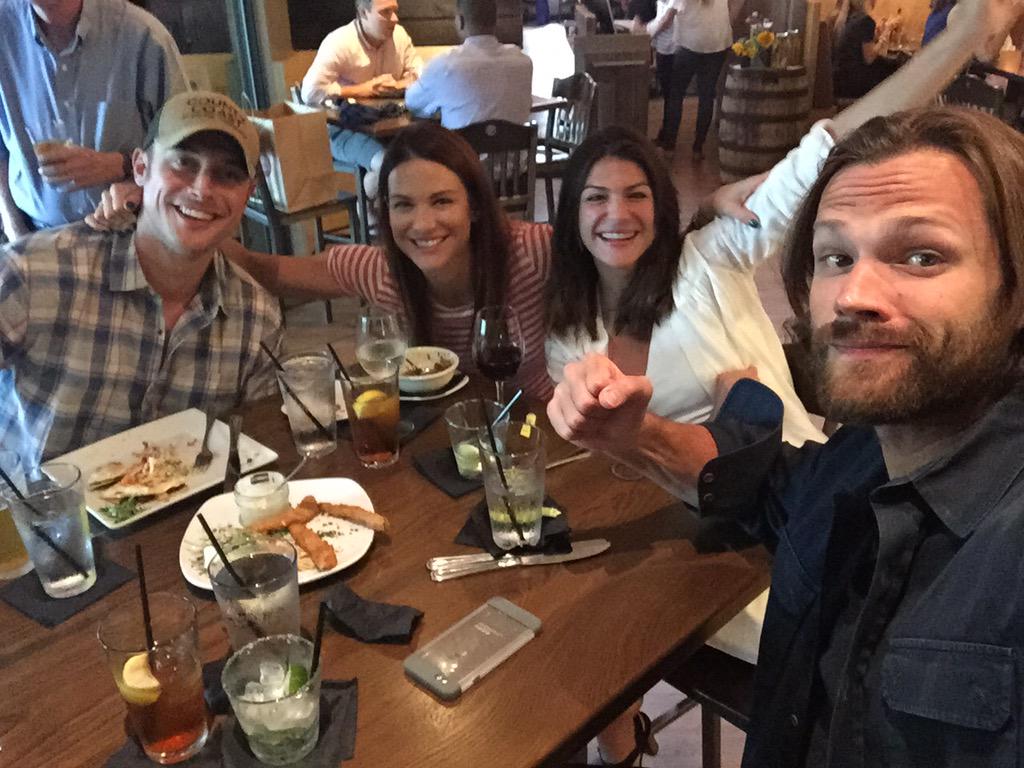 Another adorable thing about Genevieve is her friendship with Danneel Harris-Ackles. More specifically, Jensen Ackles' wife. Even more specifically, the wife of one of her husband's best friends. Jared and Jensen have been playing on-screen brothers in Supernatural for over eleven years. Because of that, they've become really close in real life. This surely played a factor into Genevieve and Danneel's friendship. A fun fact: the two have been pregnant at the same time twice. Once in 2013, and again in 2015. Goals.
4. Her reappearance on Supernatural's "The French Mistake"
https://www.youtube.com/watch?v=PB4ijQnKo1M
Even though Genevieve's character died in Supernatural's fourth season (a shame, really), that wasn't her last appearance in the show. A couple of seasons later, she starred in the episode "The French Mistake". In the episode, Sam and Dean were put in the world of their actors. As in, people started calling them Jared Padalecki and Jensen Ackles instead of Sam and Dean Winchester (yeah, Supernatural went there). Since Jared actually married Genevieve in real life, they decided to include her. So, no, she didn't come back as Ruby. Instead, Genevieve Padalecki took the role of Genevieve Padalecki… It makes a bit more sense after you watch either the clip above or the entire episode. Supernatural isn't usually funny, but Genevieve's appearance as some version of herself was one of the most hilarious and interesting things ever to happen on the show. "The French Mistake" wouldn't have been nearly as good without her.
5. Her relationship with her kids
Found them in the Dino nest couldn't resist and took them home pic.twitter.com/dpB7W1N87o

— Genevieve Padalecki (@realGpad) January 18, 2015
Let's face it; Genevieve is one of the most darling moms ever. A lot of her tweets are dedicated to her and Jared's two sons, Tom and Shep. Her account, @realgpad, is full of pictures of them. She's posted images of them at a national park, on Halloween in their costumes, and many other cute photos (like this one). We're hoping that the Padaleckis' daughter, who is due around the end of March, will eventually be included in Genevieve's adorable family photos.
6. Her clothing donations to charity
Love this dress! Bid on it through @DressLikeGen to support equal women's health access in Texas!  https://t.co/1hHOwu7xnu

— Genevieve Padalecki (@realGpad) December 8, 2016
Like Jared, Genevieve enjoys giving back. Through the Twitter account @DressLikeGen, she has auctioned off a few pieces of clothing from her closet. The funds received go towards different charities and causes, such as equal women's health access in Texas. It also lets the winning bidder have a piece of clothing from her and for a fan, it doesn't get much better than that. Not only do you get something she's worn, but your money is going to charity. It's a double win.
Bonus: Her gorgeous smile
Okay, so seven reasons. Genevieve's bright smile deserves to be recognized. Much like her presence, it lights up the room it's in and a lot of times, you can't help but grin yourself. It's contagious like that.
---
See? Definitely lovable. So what about you – what are your favorite things about Genevieve Padalecki? Do you watch her on Supernatural? Tell us in the comments below or tweet us at @CelebMix.
Also, if you'd like to see our list of reasons to love her husband Jared Padalecki, make sure to check it out here!