Last Friday, Lionsgate Entertainment Group released the neo-noir thriller, "Adverse" into theaters, which has garnered significant amounts of press. The film's director, Brian A. Metcalf, along with a stacked cast, including, but not limited to Mickey Rourke, Kelly Arjen, Sean Astin, Penelope Ann Miller, and Thomas Ian Nichols, helped create a powerful brand and media campaign surrounding the film, that movie-viewers were ecstatic to go see the film. Indeed, it's doing quite well in Hollywood, set for a digital release sometime in March 2021.
But not all films are as lucky as Metcalf's film. Certainly, Hollywood is still hurting big time. With the delays of "A Quiet Place 2", "Top Gun: Maverick", "007: No Time to Die", high-luxury brands continue to take a hit on what will soon be outdated tech and product lines.
Back in July of 2020, Paramount Pictures painfully announced that the sequels to "A Quiet Place" and "Top Gun" would be delayed at least one-year after its originally anticipated release dates of September 6, 2020 and December 23, 2020, respectively.
As of today, fans will have to wait to see "A Quiet Place 2," starring John Krasinski and Emily Blunt in theatres on April 23, 2021, and "Top Gun: Maverick" on July 2, 2021–that is, if COVID-19 lets up.
The sequel to the hit 1986 film, "Top Gun" starring Tom Cruise will bring Cruise back to his role as US Naval aviator Pete "Maverick" Mitchell. Paramount's president of domestic distribution, Chris Aronson explained to Variety that digital streaming of films doesn't replace the moviegoer experience of actually watching these films in theatres.
"We truly believe that there is no movie-viewing experience like the one enjoyed in theaters," Aronson said in a statement. Mark Viane, the president of international theatrical distribution at Paramount also emphasized the company's commitment to getting these films into theatres. "We are committed to the theatrical experience and our exhibition partners, and want to stress that we are confident that, when the time comes, audiences everywhere will once again enjoy the singular joy of seeing Paramount films on the big screen."
The global coronavirus pandemic has hit the entertainment industry hard, especially when it comes to the layered complexities that help bring these films and TV shows to life. Behind every film, there are a series of contracts; and behind every contract are numerous branding and product placement agreements. Right now, product sponsors are very concerned about the already negotiated (and filmed) products are outdated.
"A Quiet Place 2" was one of the first major movies pulled from release as the coronavirus began to spread in the United States, originally scheduled to open on March 20, 2020. Consequently, other national films like Christopher Nolan's sci-fi thriller "Tenet" and Disney's live-action reboot of "Mulan" were pushed to streaming platforms like HBOMax and Disney+, at a marked up rate.
And of course, "007: No Time to Die", the latest installment to the Bond franchise has continuously been pushed out, now expecting to be in theatres sometime in October 2021, with a previously scheduled release date of April 2020, then November 2020, April 2021, and now October. Bond fans know that the 007 franchise is filled with the most exquisite and technologically advanced gizmos and gadgets, which were evident in the very first novels introducing the secret agent to the world.
Just take a look at this snippet of branding back from 1997-2002 of what products appeared in the Bond films: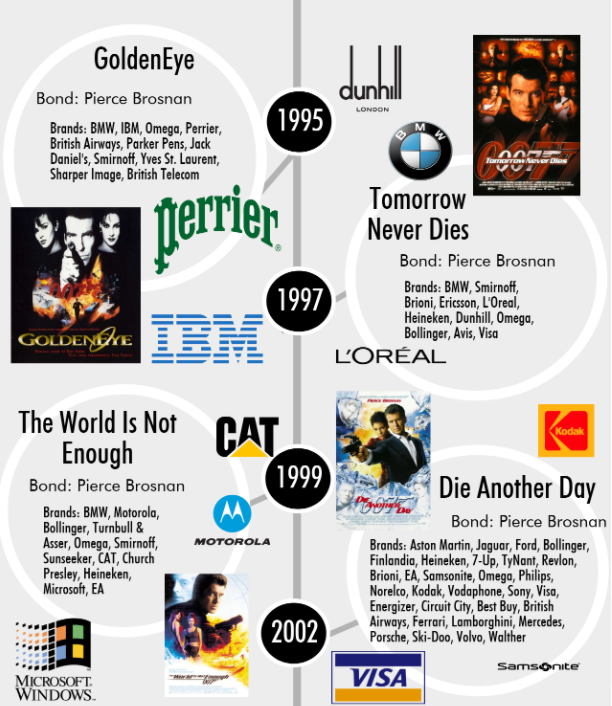 Of course brand sponsors are freaked out. "Some of those [products] were the very latest models back when they started filming," a source close to the film told The Sun.
"But by the time the movie comes out now, it will look like Daniel Craig and all of the other cast members are carrying something that has been out for ages. That isn't really the point of these deals." Although the film will reportedly feature Omega watches, Bollinger champagne, and Adidas footwear, it seems likely that HMD Global's Nokia phones are at risk of dating most quickly. HMD Global announced last year that the film would include its Nokia 8.3 5G from last year, and TechRadar reports that the film is also set to include the Nokia 7.2, which was first released in 2019.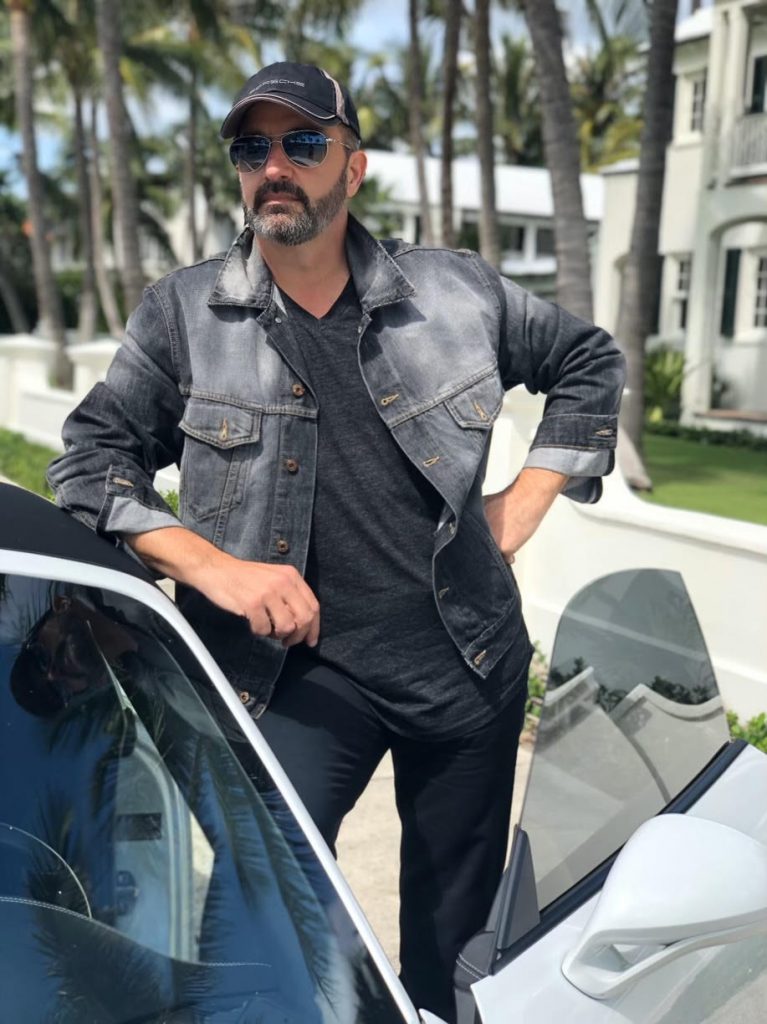 CelebMix spoke with Hollywood product placement executive, Lorenzo Rusin, who after 25+ years in the industry, has never seen anything like this. Rusin isn't a traditional Hollywood public figure, often working behind-the-scenes to place high-luxury brands into film and television. He is known for his work on "Beverly Hills Cop 4," "Terminator: Dark Fate," "The Bucket List," "The Irishman," and "Bad Boys for Life", to name a few.
But with films like 007 and "Coming 2 America," the sequel to the Eddie Murphy fan-favorite, "Coming to America," Rusin describes the brand placement process in Hollywood to be "quite sophisticated."
"We all hope that this pandemic will be over soon, because like everyone else, I also miss the human contacts which my job often requires me being on the movie set," Rusin said. "From my twenty-years in this business, I know many people, ranging from actors and actresses to cameramen and directors. I think it's very important for people to be together, and during this time, the biggest change is having to wear masks, briefly shaking hands, and of course, washing hands immediately after. That was the biggest change for Los Angeles."
And to Aronson's and Viane's earlier point, streaming just doesn't do the movie-viewing experience justice. We have worked so hard to get away from cable networks, that in our attempts to "cut the cord," somehow we've found our way back to the traditional cable subscription model with more streaming platforms out there than we know what to do with–and we are paying $10 here, $15 there, and at the end of the day, we're right back where we started.
But why is product placement so difficult? "When you place a product in a movie or TV show, you have to be tasteful," Rusin advises. "You can't just put a brand in. Two months ago, for example. I saw a movie, and it was a nightmare. I saw this product placement, which was terrible, because it was a salami or cold cut company, where the two individuals were sitting on the couch talking–but next to them, was this plastic container of salami next to them on the couch, which doesn't make any sense. Sometimes, you have placements that at times, aren't tasteful. You have to be realistic."
When we think about product placement, especially for brands such as Starbucks, Audi, Gucci, Apple, and countless others, we don't think about the work that is required to also manage those brands. Rusin and his team's job is to secure those legal agreements to help situate the perfect brand in the perfect film, for the perfect scene at the perfect time, so viewers can really identify that brand almost immediately.